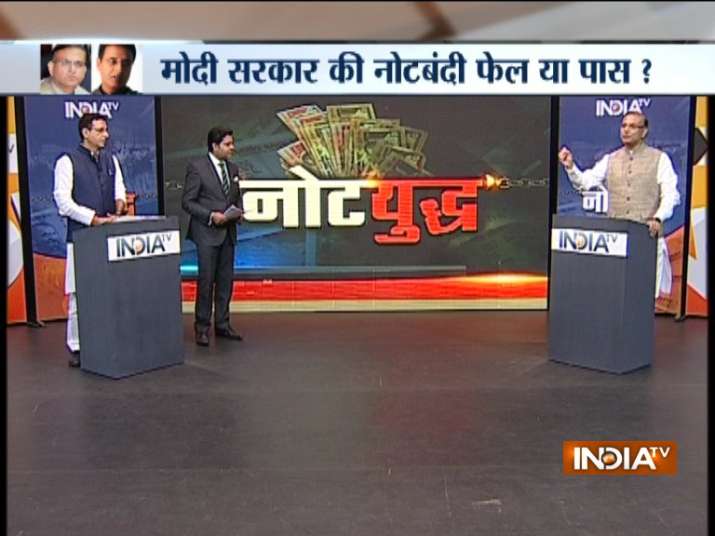 As the demonetisation is set to complete its first anniversary, both the Narendra Modi government and the Opposition have been trying to buttress their claims over the effect of the move.
While the government terms the note ban a 'landmark' decision, the Opposition has been trying to corner the Centre, alleging its failure and the economy being affected by it. 
On the eve of demonetisation, India TV brings you an exclusive debate between Minister of State for Civil Aviation Jayant Sinha and Congress chief spokesperson Randeep Singh Surjewala. 
In an attempt to target the Modi government over note ban, the Opposition, particularly the Congress, has announced that it will observe November 8 as 'Black Day' across the nation. 
Countering the move, the BJP has announced that it will observe November 8 as 'anti-black money day'.
Here are the highlights of the debate show:
* For the first time, tax is being imposed on ATM withdrawals, and bank transactions after November 8: Randeep
* We are grateful to the honest tax payers, but there were many who used to own black money: Jayant Sinha
* We have complete knowledge about those who deposited their money post note ban. So, corruption has definitely being controlled post note ban: Jayant Sinha
* I express extreme grief if people have died while standing in bank queues: Jayant Sinha
* Randeep Surjewala attacks BJP government for continuous hike in subsidised and non-subsidised gas cylinders
* BJP government gave poverty to Jharkhand -- a state which is richest in natural resources: Surjewala
* There were many people who were evading taxes, our government has taken many steps to stop that. Note Ban is the biggest decision of all those: Jayant Sinha.
* Congress changed the 1883 law which was against farmers: Randeep Surjewala
* First time tax is being imposed on farming in India: Randeep Surjewala
* If you have imposed seven different taxes on daily use items, you cannot deny it: Randeep Surjewala
* Opposition says Rs 100 is debited on online transactions, they haven't used mobile wallets: Jayant Sinha
* I am very disappointed because people have moved forward and have gained knowledge, but the Opposition hasn't: Jayant Sinha
* The GST is Gabbar Singh Tax. One Nation One Tax is now One Nation Seven Taxes: Randeep Surjewala
* All cash is not black, and all black is not cash: Randeep Surjewala
* Why Rs 100 is debited every time from the third use of ATM card, its the Modi Tax we are paying: Randeep Surjewala 
* When we fought the UP election, note ban was a big issue: Jayant Sinha
* Gujarat and Himachal polls are ahead, please go and tell the people what our fault is, they will give the answer: Jayant Sinha
* 6.5 lakh crore deposited in banks in the 45-day window post note ban, whose money is that: Randeep Surjewala
* Randeep ji is a renowned lawyer. If he is so confident of his facts, please get started legal proceedings against the government: Jayant Sinha
* When people were standing in queues, Mr Reddy did his daughter's marriage for Rs 550 crore: Surjewala 
* A Gujarat bank, associated with Amit Shah, got Rs 500 crore a day before note ban. Whose money is that?: Surjewala
* Nation's GDP suffered a loss of 3.5 lakh crore because of a 'tughlaqi' decision: Surjewala
* 150 people died standing in bank queues after note ban, who is responsible for that: Surjewala
* People have adopted digital payments in their everyday life, have increased by two to three times: Jayant Sinha
* Randeep's claim of cash to GDP ration increase is wrong. cash to GDP ratio was 11.3, which has now come down to 9.7: Jayant Sinha
* 50 major incidents in Jammu and Kashmir, 17 major naxal attacks post note ban: Jayant Sinha
* U said note ban restricted naxal attacks, fake currency, but this didn't happen: Randeep Surjewala
* When all the notes came back to banks, we started scrutinising every note. We have complete knowledge of people who evaded taxes, and action will be taken against those, says Jayant Sinha
* 90 lakh more people came under tax net after note ban, says Jayant Sinha  ​