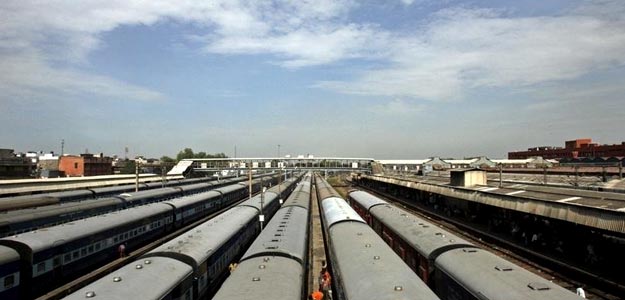 A global tender floated by the Indian Railways to procure rails to plug shortfalls as it sets out to procure 700,000 metric tons of rail to upgrade its British-era tracks could come as a body blow to state-run supplier Steel Authority of India Ltd.
Railways minister Piyush Goyal said the freight and passenger carrier is seeking 700,000 metric tons of rail for track updates. The move is aimed at ensuring steady supplies and competitive prices.
The development comes amid Prime Minister Narendra Modi's Rs 8.6 lakh crore push for upgradation of aging lines of the network. Giant track-laying projects are underway to modernise passenger and freight movement to cut travel time.
Moreover, Indian Railways expects annual demand for steel rails to rise to 1.5 million tons in the year ending March from about 800,000 tons in the 12-month period a year ago.
For SAIL, the development puts up quite a challenge.
Struggling with back-to-back losses for two years and high debt levels, SAIL will be under pressure to increase production to meet the Railways' demands. SAIL has so far enjoyed monopoly as far as supplies to the national carrier are concerned.
On Wednesday, Steel Minister Birender Singh asked SAIL to ramp up production from its new rail mill in Bhilai to meet the requirements of its major customers.
"The company should chalk out a time-bound action plan to cater to the Indian Railways' increasing demand," he said.
The global tender could put Steel Authority under pressure to ramp up production from the plant at a faster pace.
SAIL's pain is Jindal's gain?
The inability of the state-run steelmaker to fulfill Railways' demand may benefit private producer Jindal Steel & Power Ltd, the only non-state steel producer of this grade available domestically.
The tender assumes equal significance for Jindal Steel as well, given the several efforts it has made to make inroads into the segment. The private steelmaker has also been suffering losses and has significant debt on its books.
The company has the capacity to produce 800,000 tons of rails and universal beams, Kapil Mantri, head of corporate strategy and business development at Jindal Steel, told Economic Times.
"We are the only other supplier in India for rails, so it is a clear advantage to us," Mantri said.
India's annual steel capacity stands at 126 million tons and is forecast to rise to 150 million tons by 2021, before settling at 300 million tons, according to Steel Secretary Aruna Sharma.