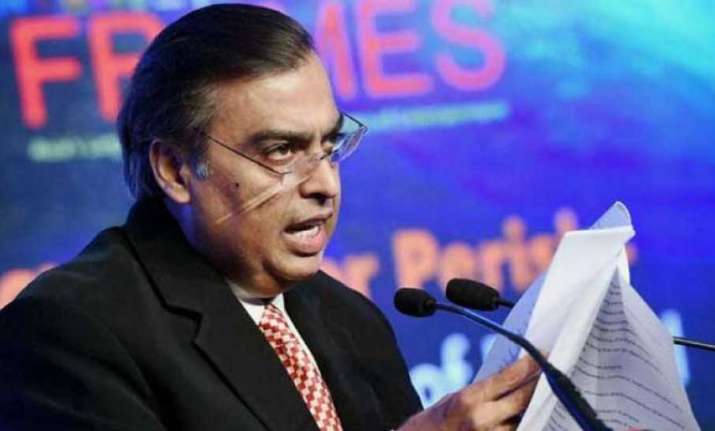 Reliance Industries Chairman Mukesh Ambani on Thursday made a slew of announcements and offers to woo its customers. The major announcements among these were the launch of Jio Giga Fiber, Jio Phone 2 that supports Facebook, Youtube and WhatsApp as well. In the last AGM, Ambani unveiled the company's flagship Jio for 'effectively Rs 0'. He also said the company saw its biggest growth opportunity "in creating a hybrid, online-to-offline new commerce platform".Besides, Ambani said the company's digital tools will predict and anticipate the needs of shoppers.
1. Jio Giga Fibre
After shaking the mobile telephony market with free voice calls and dirt cheap data, richest Indian Mukesh Ambani today announced plans to launch "Jio Giga Fiber", ultra high speed fixed line broadband services for homes and enterprises.
Speaking at the company's 41st annual general meeting, Ambani said the service will provide ultra high definition entertainment on TV, voice activated assistance, virtual reality gaaming and digital shopping as well as smart home solutions. 
"We will now extend fiber connectivity to homes, merchants, small and medium enterprises and large enterprises simultaneously across 1,100 cities to offer the most advanced fiber-based broadband connectivity solutions," he said. 
The fixed line broadband will offer "ultra high-definition entertainment on large screen TVs, multi-party video conferencing from your living room, voice-activated virtual assistants, virtual reality gaming, digital shopping, immersive experiences," he said. Registration for fixed line broadband service will begin from August 15. 
Jio GigaFiber broadband will come with a set top box for TV and will have enabled voice command feature for TV. Besides, it will have a TV calling feature. 
2. Jio Phone 2 launched with advanced features
The new Jio Phone 2 that was launched today, will be available at an introductory price of Rs 2,999 with effect from August 15. 
"Starting on August 15, we have another exciting offer for common Indians. They can purchase our Jiophone2 at an introductory price of only Rs 2,999," Ambani said.
3. Exchange old phone to get new JioPhone at just Rs 501
Mukesh Ambani announced the Monsoon Hungama offer, where you can exchange your old feature phone with new Jio Phone at Rs 501. The exchange offer will start on July 21. 
"Today, we are launching a brand new JioPhone scheme, JioPhone 'Monsoon Hungama'. Under this offer, by exchanging your old feature phone, you can get a brand new JioPhone for an effective entry price of just Rs 501," Ambani said.
Ambani said the company saw its biggest growth opportunity "in creating a hybrid, online-to-offline new commerce platform".
Ambani, who was addressing the shareholders at the company's 41st Annual General Meeting (AGM) said the new platform will be created through integration of its offline retail arm and online technology platform.
"As Reliance transitions to become a technology platform company, we see our biggest growth opportunity in creating a hybrid, online-to-offline new commerce platform," Ambani said at the AGM.
"We shall create this by integrating and synergising the power of Reliance Retail's physical marketplace with the fabulous strengths of Jio's digital infrastructure and services."
According to Ambani, the platform will bring together the 35 crore customer base of Reliance Retail stores, 21.5 crore Jio connectivity users and a targeted 5 crore Jio "GIGA-HOMES"; and the "3 crore small merchants and shop-keepers all over India who provide the last-mile physical market connectivity".
"Hence, we will integrate the physical and digital marketplaces in a uniquely collaborative Bharat-India Jodo enterprise," Ambani said.
"We see merchants and small shop owners as critical customer interaction and fulfilment points, who will share a mutually beneficial win-win relationship with us."
He elaborated that through the deployment of "merchant point of sale" for small shop owners, the company will enable them to do "everything that large enterprises and large ecommerce players are able to do".
"They will be able to manage inventory, keep digital records and file returns, improve working capital management, retain and upgrade customers, access new customers, run promotion and loyalty programs, link to our highly efficient supply chain, and much more," he said.
WATCH VIDEO: Mukesh Ambani makes announcements at Reliance AGM