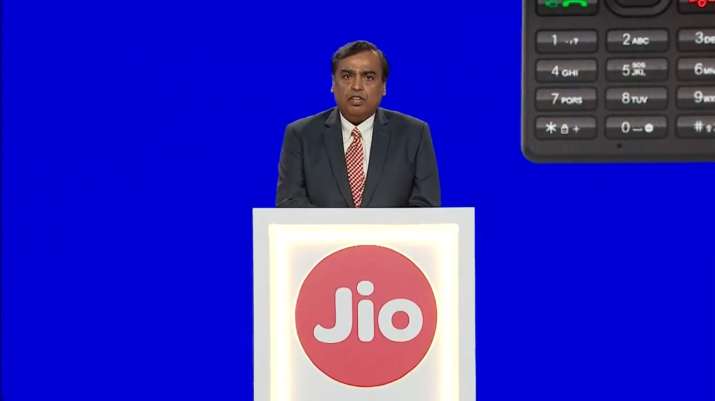 Reliance 41st AGM Live Updates: Mukesh Ambani unveils Jio Giga Fiber; brings WhatsApp, Facebook & YouTube to your Jio phone
Reliance AGM 2018:
Reliance Industries Chairman Mukesh Ambani on Thursday addressed the crucial Annual General Meeting (AGM) of the company. ​The AGM of Reliance, the oil-to-telecom conglomerate, began at 11 AM at Birla Matushri Sabhagar in Mumbai. Mukesh Ambani unveiled wired broadband service JioFiber, which has already been rolled out in select markets in the country. It offers fibre-to-the-home (FTTH) broadband connections with 1.1TB (terabytes) of free data at a speed of 100 mbps. 
Ambani said the company saw its biggest growth opportunity "in creating a hybrid, online-to-offline new commerce platform". According to him, the new commerce platform will be created through integration of its offline retail arm and online technology platform. He further said Reliance Retail's revenue grew by 100 per cent on a year-on-year (YoY) basis Rs 69,000 crore last year.
Reliance Industries AGM 2018 Live Updates:
12:02 am: Reliance Foundation's rural transformation initiatives are focused on establishing strong market linkages for farmers and leveraging technology for better reach and impact: Mukesh Ambani
11:59 am: As the world migrates from fossil fuels to renewable energy, we will maximize oil to chemicals conversion and upgrade all of our fuels to high value petrochemicals. The hydrocarbon business is thus posed for robust value creation and exciting times ahead: Mukesh Ambani 
11:56 am: We see our biggest growth in creating a hybrid, online-to-offline new commerce platform of 35 crore customer footfalls at Reliance Retail, 21.5 crore Jio customers, 5 crore Jio giga-home customers, and 3 crore small merchants and shop-keepers
11:53 am: Jio has enabled Reliance to strategically reinvent itself as a Technology Platform Company. Digital platforms have become the new-age factories and service providers: Mukesh Ambani 
11:47 am: Gone are the days of Mbps, now it will be about Gbps: Isha Ambani
11:43 am: With the added functionalities and strong retail presence across India, the goal that I have now set for our Jio team is to enable 100 million users on this Jio Phone platform in the shortest possible time and create another world record: Mukesh Ambani
11:41 am: Reliance Retail poised to become bigger, better and more profitable: Mukesh Ambani
11:37 am: Starting 15th August, we have another exciting offer for common Indians. They can purchase our Jiophone2 at an introductory price of only Rs 2,999: Mukesh Ambani
11:34 pm: We are launching Jio Monsoon Hungama where feature phone users can exchange their phone and pay Rs 501 to get a Jio phone
11:27 am: Date usage has grown from 125 GB per month to 240 Cr GBs per month, says Mukesh Ambani
11:24 am: Mukesh Ambani unveils Jio Giga Fiber; brings WhatsApp, Facebook, YouTube to Jio
11:21 am: Reliance paid Rs 42,553 crores in Goods and Services Tax, says Mukesh Ambani
11:18 am: Jio will launch fiber-to-home broadband in 1100 cities, says Mukesh Ambani
11:16 am: We will offer the most advanced fiber-based broadband solutions, says Mukesh Ambani 
11:15 am: As our Golden Decade rolls on, our consumer businesses will contribute nearly as much to the overall earnings of your company as our energy and petrochemical businesses: Mukesh Ambani
11:12 am: Jio has doubled customer base to 215 million, says Mukesh Ambani
11:10 am: Jio is a customer-obsessed organisation, says Mukesh Ambani
Get ​Mukesh Ambani Reliance Jio Agm Live Updates, Reliance Industries AGM 2018 LIVE Updates
10:59 pm: Reliance Industries might launch JioFiber and foray into the broadband market. Consumers and investors alike are eagerly waiting for this expected launch. 
10:57 pm: Mukesh Ambani is also expected to announce key strategies for its telecom arm Reliance Jio, which has given sleepless night to countless other telcos with its free offers, cheap data packs and unlimited calling. 
10:55 pm: One can also expect Mukesh Ambani's re-appointment discussion to come up in the Reliance Annual General Meeting today. 
10:52 pm: One can expect the performance of Q4FY18 of Reliance Industries Ltd. and Reliance Jio to be unveiled too. 
What is JioFiber?
JioFiber connectivity comes directly to your home unlike in cases where the fiber reaches only till the building. The last mile connectivity then is done via traditional cable, which reduces internet speed and user experience due to patches. But JioFiber will bring the broadband connectivity right till your house.  The current offer as listed on the Jio website is the JioFiber preview offer which gives you ultra high-speed internet up to 100Mbps for 90 days along with a monthly data quota of 100 GB along with complimentary access to a host of Jio's premium apps.
Reliance Industries 41st AGM: Where to watch Live streaming
You can watch the live streaming of Reliance AGM on the following Youtube Channels:
Facebook Reliance Industries Limited page
Watch this space for live updates on Reliance Industries AGM, Reliance Industries 41st AGM, mukesh ambani, reliance jio, major announcements, mukesh ambani at Reliance Industries AGM,  Jio Fiber,  Jio Fiber commercial launch, reliance jio, live updates, breaking news, reliance latest news