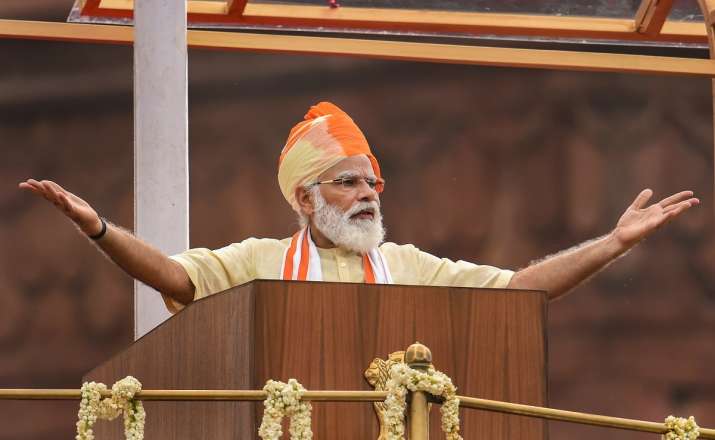 Prime Minister Narendra Modi on Saturday addressed the nation from Red Fort, as India celebrated its 74th Independence Day today. Speaking on the initiative of 'Make in India', Prime Minister Narendra Modi said, "we have to move forward with the mantra of Make in India as well as Make for World." Speaking further, the prime minister said, "today, many big companies of the world are turning to India." 
About 7,000 projects of different sectors have been identified to bring a new revolution in infrastructure, the prime minister said.
"We have to remove silos and the entire country has to move towards multi-modal connectivity infrastructure," Prime Minister Modi said on Saturday. 
About Rs 90,000 crore directly transferred to bank accounts of poor; over 80 crore people provided free food grains, PM Modi said, adding, 7 crore poor families were given free gas cylinders.
Unveiling his vision of 'Aatmanirbhar Bharat', Prime Minister Narendra Modi on Saturday said the goal is to make India a global manufacturing hub while a Rs 110-lakh crore pipeline of national infrastructure projects is being created to boost the economy and create jobs.
Addressing the nation on the country's 74th Independence Day from the ramparts of the 17th-century Red Fort, he said India received record foreign investment in the last fiscal when FDI rose 18 per cent.
Companies were looking to invest in the nation even during the corona crisis.
"How long can the raw material be sent out of our country and finished products imported," he asked. "Aatmanirbhar Bharat (self-reliant India) is not only about cutting imports but also raising our capacity, creativity and skills," the prime minister said.
The vision, he said, is not just to make in India but make for the world.
"Today world's biggest companies are looking at India," he said in his 86-minute speech. "Now along with 'Make in India', we will have to move ahead with the mantra of 'Make for World'."
He cited the example of India during the corona crisis becoming an export surplus nation in the manufacturing of N-95 face masks, PPE kits and ventilators.
From just one corona testing lab, India now has 1,400 labs. "Our policies, our process, our products should be the best," he said.