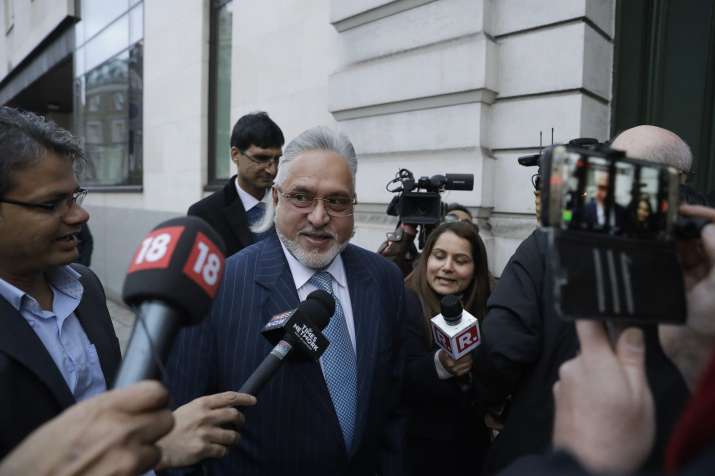 Ahead of his extradition hearing at Westminster Magistrates' Court in London, beleaguered liquor baron Vijay Mallya on Monday reiterated that the charges levelled against him were "false, fabricated and baseless". 
"I have said repeatedly that the charges are false, fabricated and baseless. I have nothing to say, submissions in court will be self evident," news agency ANI quoted him as saying. 
Mallya refused to comment further, adding that he was "not the decision maker," and would "follow the proceedings."
The 61-year-old tycoon, who is out on a 650,000-pound bail bond following his arrest by Scotland Yard over fraud and money laundering charges, today arrived at Westminster Magistrates' Court for the opening day of his extradition trial.
The 61-year-old tycoon looked relaxed as he was greeted by a swarm of cameras and reporters when he entered the court to stand trial on charges of fraud and money laundering related to his erstwhile Kingfisher Airlines owing several Indian banks around Rs 9,000 crores.
The former Rajya Sabha member has said during his numerous court appearances in London over the last few months that he has "done nothing wrong" and described the allegations against him as "fabricated".
A team of CBI officers will attend the extradition trial of industrialist Mallya in the London court from today.
His defence team, led by barrister Clare Montgomery known as an expert in criminal and fraud law with the UK's Matrix Chambers, will now present his case in court.
The extradition trial itself, to be presided over by Judge Arbuthnot, is listed for hearings until 14 December, with 6 and 8 December so far marked as non-sitting days. A judgement in the case is not expected until early 2018.
If the judge rules in favour of extradition at the end of the trial, UK home secretary Amber Rudd must order Mallya's extradition within two months. However, the case can go through a series of court appeals before the actual extradition order can be issued.
India and the UK have an Extradition Treaty dating back to 1992 but so far only one extradition has taken place from the UK to India under the arrangement — that of Samirbhai Vinubhai Patel wanted in connection with the post-Godhra riots of 2002. But, unlike Mallya, he had submitted to the extradition order without a legal challenge.
Mallya, who has been based at his Hertfordshire estate called Ladywalk in the village of Tewin, around 30 miles from London, had responded with a firm "no" on being formally asked in court if he consented to being extradited to India on the charges relating to his collapsed Kingfisher Airlines.
His extradition trial will now determine whether he can be legally forced to go back to face the Indian courts.