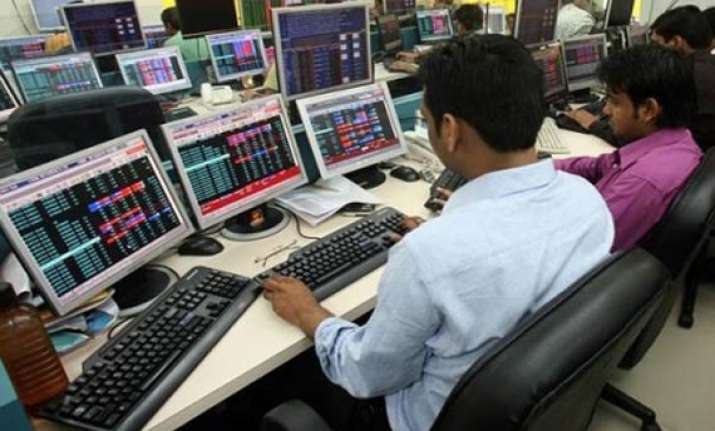 Mumbai, Dec 22: Taking the stock market rally to the second consecutive day, its barometer posted a 128-point jump today on the back of positive cues from the European markets and smart gains in the banking blue-chips and the market leader Reliance Industries Ltd (RIL).

The 30-share benchmark index settled the day at 15,813.36 points, up 128.15 points or 0.82 per cent, after reversing the losses suffered earlier in the day. This was the highest closing level in a week or since December 15, when the Sensex had settled at 15,836.47 points.

The Sensex today opened on a weak note this morning and lost further ground by early afternoon trade, but a smart recovery thereafter helped it end the day on a positive note.

At one point of time, the Sensex was down over 200 points.

Analysts said that the recovery was mainly driven by positive cues from the European markets, while sentiments also got a boost from the government data showing a decline in the food inflation to lowest level in about four years.

This marked the second straight day of gains in the Sensex after yesterday, when the index had seen a 510-point rally after five consecutive days of downhill journey.

Today's rally was mainly led by gains in banking giants like ICICI Bank, HDFC Bank and SBI, while blue-chips like RIL, Tata Motors and ITC also added to the positive movement in the BSE's benchmark index.

Another benchmark index, the NSE's 50-share Nifty index, also gained 40.7 points or 0.87 per cent to close at 4,733.85.

However, the analysts said that today's upsurge was not as broad-based as the previous trading session and was also marked with sharp volatile moves.

While banking stocks managed to gain further ground, the shares of technology firms were seen losing sheen amid concerns over global economic slowdown.

The experts also said that a sustained dip would be necessary on the inflation front, before it could lead to lowering of interest rates and higher consumer spending.

"There was recovery in the market after weekly food inflation declined to 4-year low. Moreover, European markets surged due to impressive US and European data," Motilal Oswal Securities' Parag Doctor said.

Bonanza Portfolio's Shanu Goel said that that sentiments turned negative for IT stocks as global technology giant Oracle's quarterly results missed market expectations.

"Lower than expected results renewed fear of lower IT spends in the wake of slower economic growth. However, a sharp pullback was witnessed in afternoon trade as firm opening in European markets helped lift the sentiments," Goel noted.

In another boost for the market, ratings agency Fitch said that Indian economic growth would accelerate to 7.5 per next fiscal and the domestic economy would perform better than the developed economies.

According to Fitch, the government has again taken up some good initiatives such as those for increasing foreign participation in the government and corporate debt markets, thus ending a period of pause in the economic reforms.

Among the 30 Sensex stocks, DLF was the biggest gainer with a 4.8 per cent rise, while ICICI Bank and Tata Motors gained over 3 per cent each.

Besides, SBI, Tata Power, JP Associates and NTPC gained more than 2 per cent. The other gainers included HUL, HDFC Bank, ONGC, BHEL, Jindal Steel, RIL and Tata Steel.

Seven Sensex stocks closed in the red, including Wipro, Bharti Airtel, Infosys, Coal India and TCS. The overall market breadth was also positive with gains in 55 per cent stocks.

Robust gains were seen in real estate, banking, power, consumer durables, auto and FMCG sectors, while IT was the only sectoral index to close in the negative territory.