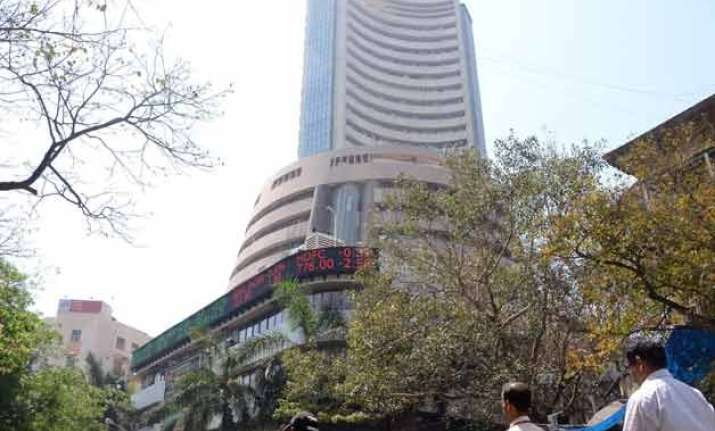 New Delhi: The Reserve Bank of India's surprise interest rate cut sent the market soaring with the Sensex breaching the 30,000 point mark for the first time in its history.
The Nifty also crossed 9,100-mark for the first time in its history today.
The 30-share index crossed the 30,000-mark by surging 431.01 points, or 1.45 per cent, to trade at an all-time high of 30,024.74.
The gauge had rallied by 847.08 points in previous four sessions on the back of strong foreign fund inflows following a growth-oriented Union Budget.
All the sectoral indices, led by banking and realty, were trading in positive zone with gains up to 2 per cent.
On similar lines, the National Stock Exchange index Nifty breached the 9,100-mark for the first time by climbing 122.95 points, or 1.36 per cent, to 9,119.20.
Equity brokers said sentiments were buoyed largely on the back of RBI's surprise move to cut repo rate by 0.25 per cent to 7.5 per cent, accelerating buying activity, particularly in interest-sensitive stocks.
ALSO READ: RBI cuts repo rate by 25 bps
Today morning, the RBI cut its key lending rates by 25 basis points, expecting inflation to soften further in the coming fiscal. The repurchase (repo) rate stands reduced to 7.5 percent from 7.75 percent, while the reverse repo rate has been adjusted to 6.5 percent from 6.75 percent.
The move came days after Finance Minister Arun Jaitley presented budget that was largely seen boosting economic growth.
While cutting the repo rate the RBI had exuded confidence in the government's fiscal consolidation exercise saying 'the fiscal consolidation programme, while delayed, may compensate in quality, especially if state governments are cooperative'.
"To summarise, softer readings on inflation are expected to come in through the first half of 2015-16 before firming up to below 6 per cent in the second half," Reserve Bank of Governor Raghuram Rajam said in a statement.
ALSO READ: Rate cut to boost economy; EMIs to come down: Jayant Sinha
"The fiscal consolidation programme, while delayed, may compensate in quality, especially if state governments are cooperative," said the Governor who has otherwise been taking a conservative approach to deal with interest rates.
"Given low capacity utilisation and still-weak indicators of production and credit off-take, it is appropriate for the Reserve Bank to be pre-emptive in its policy action to utilise available space for monetary accommodation."
Excerpts from the RBI statement
The government has emphasized its desire to clean up legacy issues which gave a misleading picture of the true extent of fiscal rectitude, and has also moderated the optimism in its projections.
To this extent, the true quantum of fiscal consolidation may be higher than in the headline numbers. Also, the government is transferring a significantly larger amount to the states, without entirely devolving responsibility for funding central programmes. To the extent that state budget deficits narrow, the general fiscal deficit will be lower.
Furthermore, supported by lower international energy prices, there is a welcome intent to shift from spending on subsidies to spending on infrastructure, and to better target and further reduce subsidies through direct transfers.