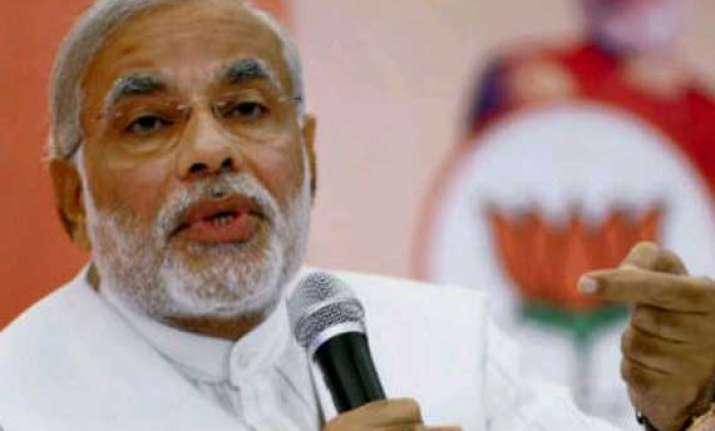 Mumbai: The much-awaited poll-result day witnessed index flaring up to fresh life-time high 7,563.50, but later cozying up to close to a new high of 7,203 on profit-booking at the National Stock Exchange (NSE) today.  Earlier, investors gorged shares with massive participation riding on the Modi wave, with the news starting to trickling that BJP-led NDA is all set to form government with thumping majority, sentiments signalling stability, growth amid economic reforms.
Aggressive buying was witnessed in realty (6.22 per cent), banking (4.33 per cent), infra (3.44 per cent), energy (2.57 per cent), metal (2.51 per cent) and auto (0.87 per cent), along with shares of mid-cap (3.54 per cent) and small-cap (2.53 per cent) companies.  But, mid-afternoon the massive rally also encountered profit-booking in key IT (2.18 per cent), FMCG (2.00 per cent) and pharma (1.50 per cent) counters erased the hefty gains of nearly 360 points.
Meanwhile, foreign institutional investors (FIIs) bought shares worth a net Rs 934.94 crore yesterday as per the provisional data from the stock exchanges.  Key mining heavyweight SSLT rallied sharply 11.03 per cent, state owned PNB  by 7.34 per cent, BPCL by 6.92 per cent, BHEL 6.19 per cent and DLF 6.10 per cent.  As far as losers are concerned, Tata Steel dropped by 4.28 per cent, ITC 3.04 per cent, Dr Reddy 3.01 per cent, Infy by 2.90 per cent and HCL Tech 2.89 per cent.
 The 50-share index traded between high of 7,563.50 and a low of 7,130.65 before settling at 7,203.00, up 79.85 points, or 1.12 per cent over its last close.  Other major gainers were SBIN, Axis Bank, ICICI Bank, ACC and Indusind Bank, while Wipro, Cipla, Heromotoco, Hindunilvr and HDFC incurred profit-booking.
 Turnover in the cash segment zoomed to Rs 36,319.87 crore from Rs 18,285.27 crore yesterday. A total of 18,024.60 lakh shares changed hands in 11,805,386 trades, while market capitalisation stood at Rs 79,18,045 crore.