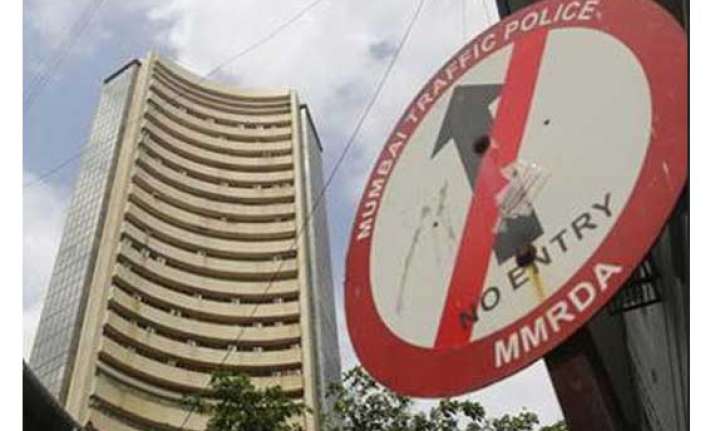 Mumbai:  Indian benchmark indices today fell for the first time in six days on rising concerns over weak domestic economic growth and a global market meltdown on fears of an imminent war between Russia and Ukraine.
After rising over 583 points in previous five sessions, the Sensex slipped about 173 points lower and ended below the 21,000 mark at 20,946.65, down 0.82 per cent.
Healthcare, IT, Power and Auto shares were the worst hit among 10 sectors that ended in the red out of 12 on BSE. TCS, ICICI Bank and Sun Pharma led 25 scrips in 30-share Sensex down. Dr Reddys and Bhel were the biggest laggards.
The NSE 50-issue CNX Nifty also dropped by 55.50 points, or 0.88 per cent, to close at 6,221.45. In previous five days, the index had risen 185.50 points.
The tensions in equity market spilled over to the rupee which slipped past 62-mark versus the US dollar in late trade.  Pro-Russian troops today took over a ferry terminal on the easternmost tip of Crimea close to Russia. Ukrainian PM Arseniy Yatsenyuk said there was no reason for Russia to invade Ukraine and warned "we are on the brink of disaster."
The Russian military mobilisation into Crimea has once again brought the spotlight to deepening risks in Ukraine, "reinvigorating debate over how escalating geopolitical conflict" may impact broader market risk sentiment, said Kevin Gaynor, analyst, Nomura in a client note.
Global stocks tumbled as tension over Russia's military advance into Ukraine and possible sanctions by Western governments intensified. Oil surged above USD 104 per barrel on concern Russian supplies could get disrupted. Gold was up 2 per cent overseas on safe haven buying, said analysts.
Besides Russia-Ukraine war talk, local brokers said, profit-booking by speculators after recent gains and subdued economic growth data for December quarter hit trading.  Country's economy grew below expectations at 4.7 per cent in October-December, making it a tough task to achieve 4.9 per cent GDP expansion in 2013-14.
Auto shares fell on weak February sales.  In the broader market, Astrazeneca Pharma shares surged 20 per cent on voluntary delisting proposal.