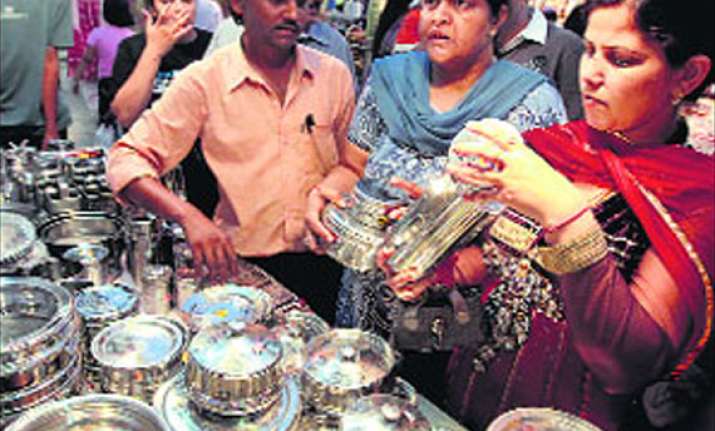 New Delhi, Oct 22: This Diwali and Dhanteras people from middle- and low-income groups will be spending up to 40 per cent less, courtesy high inflation which is eating into their monthly budgets, says a study by industry body Assocham.

In its study 'Soaring prices dampen Diwali festivities', Assocham found that during the last year, middle and lower middle income families on an average spent a sum of Rs 3,000 -4,000 for shopping and, buying sweets and Diwali gifts.

"This Diwali, it has taken a severe hit as 85 per cent respondents said that the actual consumption expenditure has come down to less than Rs 1,800-2,400," it said.

Food inflation climbed to a six-month high of 10.60 per cent for the week ended October 8, as prices of fruits and vegetables went through the roof.

Food inflation, as measured by Wholesale Price Index (WPI), was at 9.32 per cent in the previous week.

According to the study, nearly 69 per cent of the 2,000 respondents said that they avoid shopping altogether or shop only for those things that are absolutely needed. Moreover, 65 per cent said that they have bought restricted gift items and sweets this Diwali.

Further, over 87 per cent said that monthly grocery bills have jumped to about Rs 4,500, compared to Rs 2,000 in the last several months.

Over 89 per cent of respondents also mentioned, "It's not just clothes that are costlier; sweets and savouries are also priced higher by 25-30 per cent this year....dry fruit & sweets are the most expensive item of Diwali. So, everybody is feeling the pinch of rising cost of every commodity."

Also, respondents said that the price of gold being a big deterrent, alternatives to the yellow metal need to be found.

The survey further said that Delhi ranked first in curtailing expenses followed by Mumbai, Ahmedabad, Chandigarh, Kolkata and Chennai.