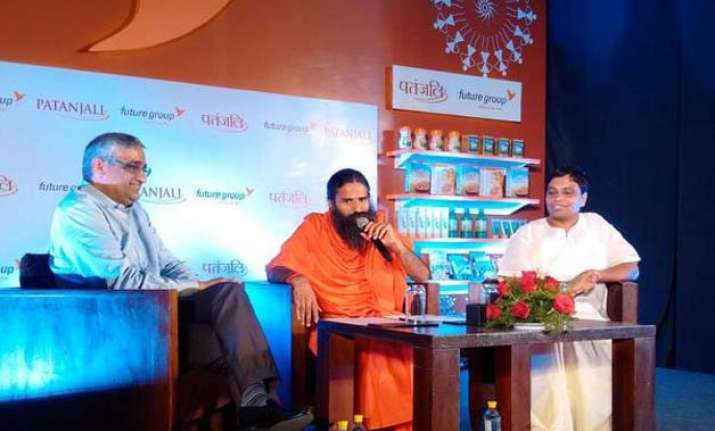 New Delhi: Kishore Biyani-led Future Group said on Friday it has entered into a marketing partnership with Baba Ramdev-led Patanjali Ayurved to sell its products and expects to do business worth Rs.1,000 crore in the next 20 months.
"We will sell Patanjali products under this partnership. We went to see their food park. These products have something that can bring revolution in India," said Biyani, founder and CEO of Future Group.
"We are jointly going to set up an office for collaboration in Haridwar. Within the next 20 months, we will jointly do a business of Rs.1,000 crore."
Patanjali products will be available in all Future Group retail outlets in 240 cities.
Biyani said he is hopeful that Future Group will have a business of Rs.30-40 crore from Patanjali products in a month, which would later increase up to Rs.80 crore.
Asked how is he so confident of clocking a business of Rs.1,000 crore, he said: "With Unilever we have a business of Rs.1,300-1,400 crore. I think Patanjali can easily achieve that."
Biyani further mentioned that it may not take 20 months to generate Rs.1,000 crore business.
Regarding Future Group's growth plans, he said it will continue to have 20-25 percent increase in revenue. "We would have a group revenue of Rs 22,000 crore to 23,000 crore this fiscal."
"We wanted to partner a 'Swadeshi' retail chain. Indigenous products should get more respect. We provide world-class quality products with low price. Hence, customers are benefited from it. We will partner Future Group in manufacturing also wherever possible," Baba Ramdev told reporters.
Future Group and Patanjali Ayurveda have foodparks in Bengaluru and Haridwar, respectively.
Ramdev said Patanjali's business will cross Rs.5,000 crore by the end of 2015-16 fiscal. He added that the profit from the business will be channelised to healthcare, education, yoga and ayurveda sector.
He said: "We will launch Patanjali noodles on October 15. It will be all over India. Maggi used to sell for Rs.25, we will offer it for Rs.15. Its taste-maker will be health-maker. It will have no added lead or MSG."
He said the catchline for Patanjali noodles will be "Jhat pat pakao, aur befikr khao".