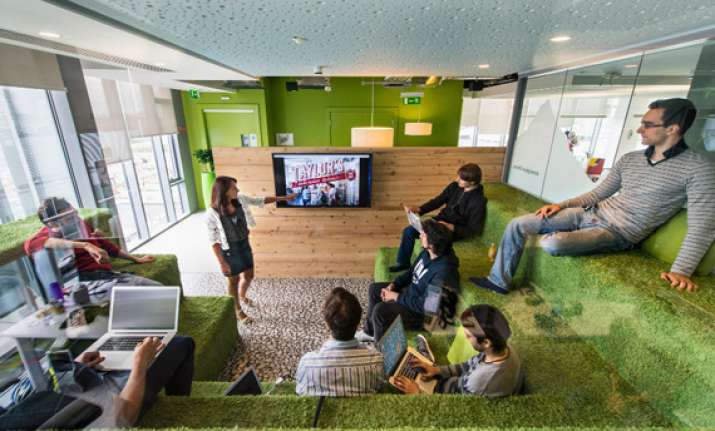 New Delhi, June 24: Google's Dublin office reflects the company's overarching philosophy, which is nothing less than "to create the happiest, most productive workplace in the world."
Located in the tallest commercial building in Dublin, the Montevetro, or Google Docks as it is now called, houses Google's headquarters for Europe, the Middle East and Africa designed by Camenzind Evolution.
The multi-hued Dublin complex comprises of office spaces tagged with names such as 'Clown College', 'Funland' and 'Bouncing Castle'. The building consists of fourteen individually-themed floors of creative work environments with each floor embodying a value revered by the company, such as 'search', 'appiness', 'be green', '@home', 'create,' 'organize,' 'innovate'.
The entire space offers labyrinth of play areas; cafes, coffee bars and open kitchens; sunny outdoor terraces with chaises; gourmet cafeterias that serve free breakfast, lunch and dinner; Broadway-theme conference rooms with velvet drapes; and conversation areas designed to mimic trees. The company's staff from over 38 countries come to work here , with the company offering employees their own gym, swimming pool, pool tables, shuffle boards, bean bags and swings the common language everyone seems to speak is 'fun'.
The vibrancy of the workspace, according to Goggle, encourages creativity. For instance, an area with video games gives employees a chance to decompress and not focus on work for a little while, or a meeting area that's filled with color and interesting structures could help stir up employees' creative juices."
In keeping with a company built on information, everything is carefully planned, well researched and is backed by data. In one of the open kitchen areas, there is an array of free food, snacks, candy and beverages. "The healthy choices are front-loaded," it says.
Given that the company's success depends on collaboration and innovation, everything has been designed to remove psychological barriers to interacting. The theory is that open spaces that are fun, prompt people to facilitate idea exchange.
Here are some amazing pictures from Google's office in Dublin, Ireland.
1. Front view of the 14-story Google Docks building.