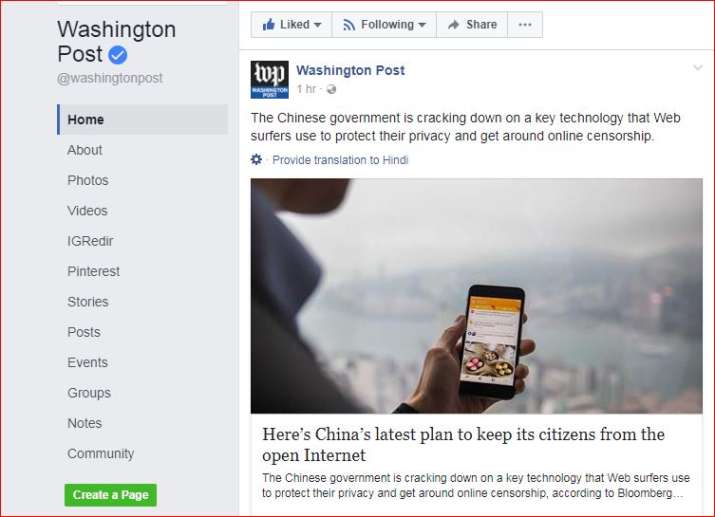 In view of their declining ad revenue over the last decade with Facebook and Google grabbing the vast majority of the digital advertising market, around 2,000  national and local newspapers of the United States including The New York Times, The Wall Street Journal and The Washington Post have started to reach out to Capitol Hill to seek an antitrust exemption from Congress to negotiate collectively over advertising revenue.
According to The Washington Post, a non-profit organization called the News Media Alliance is reaching out to the US lawmakers on the behalf of these newspapers.
Paul Boyle, senior vice president of public policy at News Media Alliance, told The Washington Post that the newspapers thought they would earn a piece of the digital ad market if their articles are shared on social media but they are disappointed to note that Facebook doesn't always allow the reader to click through to the publisher's website, denying the news website ad revenue from that reader.
"We're not looking to break up Google and Facebook by saying they have a duopoly here, what we are saying is there has got to be a way to improve the business model," Paul Boyle said. 
"For us to provide [Google and Facebook] with the value of content that is very expensive to produce, we need to rein back value to that content," he added.
According to Pew Research report, Google and Facebook control nearly two-thirds of the digital advertising industry.
Newspaper revenue from advertisements declined to $16 billion in 2016, down from about $50 billion 10 years earlier, according to a CNBC report.
Facebook, however, said the company is committed to helping quality journalism thrive on its platform. 
"We have already been working with publishers and we're making progress through our work and have more work to do,"  Campbell Brown, Head of News Partnerships at Facebook, was quoted as saying by the Washington Post.
"Google and Facebook dominate web traffic and online ad income. Together, they account for more than 70 per cent of the $73 billion spent each year on digital advertising, and they eat up most of the growth," David Chavern, President of News Media Alliance, was quoted as saying. 
"Nearly 80 per cent of all online referral traffic comes from Google and Facebook. This is an immensely profitable business," Chavern said.
Reacting to the News Media Alliance's latest move, Google said it wanted to help news publishers succeed and lately, it had built numerous specialised products and technologies, developed specifically to help distribute, fund, and support newspapers.
"This is a priority and we remain deeply committed to helping publishers with both their challenges, and their opportunities," Google was quoted as saying in a press statement.
(With IANS inputs)