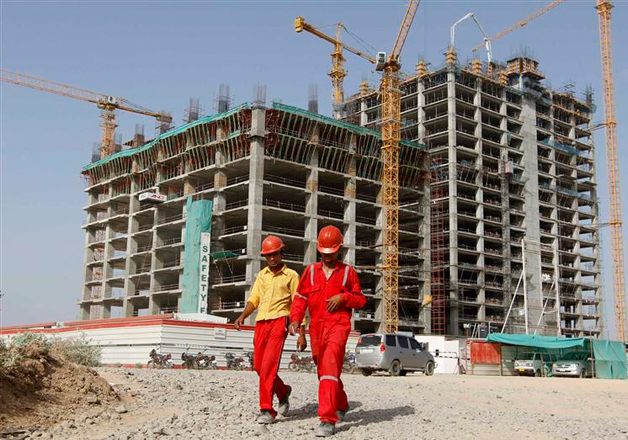 Union Finance Minister Arun Jaitley today lowered the GDP growth rate for the current year (2016-17) to 6.5 per cent, down from 7.6 per cent in the last fiscal.
Tabling the Economic Survey in the Parliament, Jaitley pegged 2017-18 GDP growth rate between 6.75 per cent and 7.5 per cent.
While the agriculture sector will show a decent growth of 4.1 per cent, industrial output will retard to 5.2 per cent. Services growth will be 8.8 per cent, it said.
These three sectors had expanded by 1.2 per cent, 7.4 per cent and 8.9 per cent, respectively, during the previous fiscal.
The Survey's GDP growth figure for the current fiscal is lower than 7.1 per cent the Central Statistics Office had forecast earlier this month.
The Survey lists some of the challenges that might impede India's progress. These include ambivalence about property rights and the private sector, deficiencies in state capacity, especially in delivering essential services and inefficient redistribution.
"For 2017-18, it is expected that the growth would return to normal as the new currency notes in required quantities come back into circulation and as follow-up actions to demonetisation are taken," the survey said referring to ban on high-denomination currencies announced in November last year
The Survey highlights difficulties in privatising public enterprises, even for firms where economists have made strong arguments that they should be in the private sector. In this context, it pointed towards the need to further privatise civil aviation, banking and fertiliser sectors.
The Survey stated that the capacity of the state in delivering essential services such as health and education is weak due to low capacity, with high levels of corruption, clientelism, rules and red tape. At the level of states, competitive populism is more in evidence than competitive service delivery, it added.
Constraints to policy making due to strict adherence to rules and abundant caution in bureaucratic decision-making favours status quo, it cautioned.
According to the Survey, redistribution by the government is far from efficient in targeting the poor. This is intrinsic to current programmes because spending is likely to be greatest in states with better institutions and which will therefore have fewer poor.
It noted that over the past two years, the government has made considerable progress towards reducing subsidies, especially related to petroleum products.
Technology has been the main instrument for addressing the leakage problem and the pilots for direct benefit transfer in fertiliser represent a very important new direction in this regard, it said.
Noting that India has come a long way in terms of economic performance and reforms, the survey said there is still a journey ahead to achieve dynamism and social justice and completing this journey will require broader societal shifts in the underlying vision.