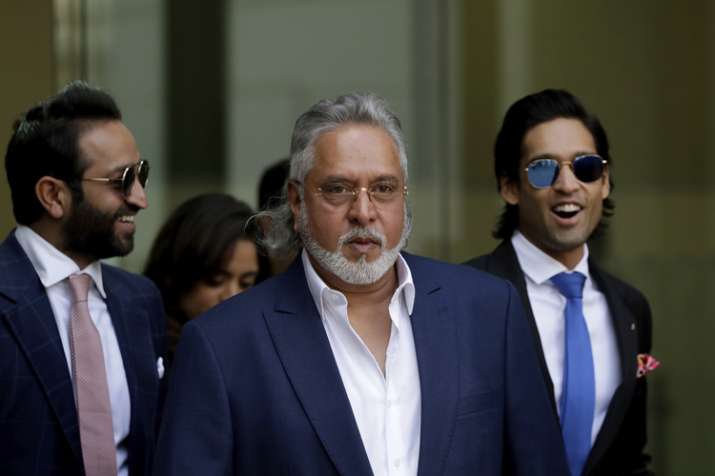 The Enforcement Directorate (ED) on Wednesday filed a chargesheet against absconding liquor baron Vijay Mallya and others in the IDBI-KFA bank loan money laundering case at a Mumbai court. 
The move comes a day after the Westminster Magistrates Court in London granted Mallya bail till December 4 in the extradition case. 
The 57-page charge sheet or prosecution complaint, with voluminous annexures, was filed under various sections of the Prevention of Money Laundering Act (PMLA) before a special anti-money laundering court here. 
The Enforcement Directorate had registered a criminal case in this deal last year under the PMLA and has attached assets worth over Rs 9,600 crore till now. 
Officials said the agency has stated in detail in the charge sheet how funds of about Rs 400 crore were moved abroad in alleged violation of rules. 
It has also mentioned the role of other officials and executives of KFA and IDBI in this deal and has appended their statements recorded by the agency under the PMLA law. 
The investigations conducted by the ED so far had stated that its probe found that the Kingfisher Airlines (KFA) along with IDBI bank officials "criminally conspired to obtain funds to the tune of Rs 860.92 crore despite weak financials, negative net-worth, non-compliance of corporate credit policy of new client, non-quality collateral security and low credit rating of the borrower, out of which Rs 807.82 crore of principal amount remains unpaid". 
The total loan sanctioned and disbursed by IDBI to KFA was Rs 860.92 crore. 
The ED had said its "money trail analysis revealed that out of the total loan of Rs 860.92 crore, sanctioned and disbursed by IDBI, Rs 423 crore has been remitted out of India. 
The said payments were shown to be made towards aircraft rental leasing and maintenance, servicing and spare parts."
Speaking to media before his extradition hearing, Mallya had said, "I deny all allegations, I have enough evidence to prove my case in court."
Britain's Crown Prosecution Service argued the extradition case on India's behalf. A joint CBI-ED team went to London last month with documents to bolster the Crown's case.
Mallya owes as much as Rs. 9,000 crore to Indian banks. He was declared arrested in absentia on April 18 after India made a formal extradition request for him on February 8.
The 61-year-old chief of the now-defunct Kingfisher Airlines fled India on March 2 last year, and has been living in Britain, mostly, since then.