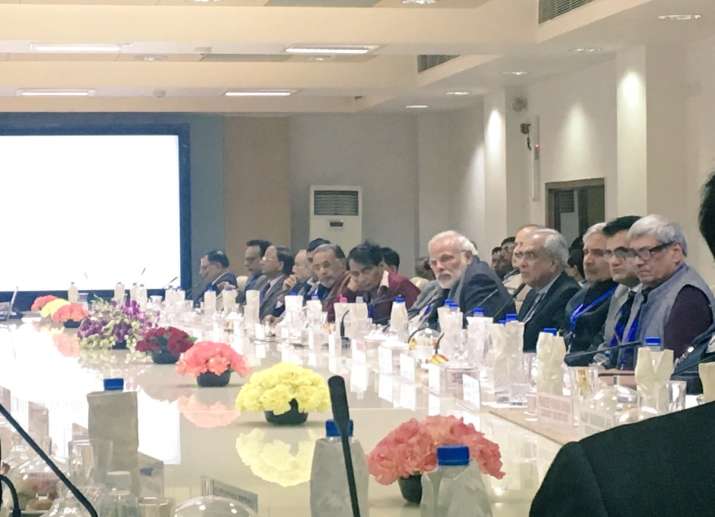 Prime Minister Narendra Modi on Wednesday interacted with leading economists and sector experts at NITI Aayog in New Delhi ahead of Union Budget 2018.
The prime minister interacted with experts and secretaries who shared their views on various economic themes such as macro-economy, agriculture and rural development, employment, health and education, manufacturing and exports, urban development, infrastructure and connectivity,  NITI Aayog Vice Chairman Rajiv Kumar informed media after the meeting here on Wednesday. 
Kumar informed that several experts backed the idea of shifting the focus from agricultural production to raising farmers income, by improving productivity, lowering costs, greater efficiency, greater market access, making producers of products rather than commodities. 
The session on 'Economic Policy: The Road Ahead', organised by government think tank NITI Aayog, was attended by a host of ministers including Finance Minister Arun Jaitley, NITI Aayog functionaries and leading economists. 
On the issue of unemployment, experts opined that rate of education is contributing to higher number of jobless youth, thus, "As you educate more people, raise aspirations and you have to provide them with jobs. Someone said that it is time now to target on job growth," Kumar informed media. 
"I am hoping NITI Aayog will monitor high frequency data on employment on a regular basis and actually create new data set which is not available as of now. I am trying to create capability in the Aayog hopefully in collaboration with the Ministry of Labour to trap this data," he said. 
The Aayog vice chairman also  said that all the experts backed the National Medical Commission Bill.
After the presentations, PM Modi assured the experts that the government will 'attempt to make the best out of their informative suggestions and views which were presented in new ways through this initiative'.
#EconomicPolicyRoadAhead: Group on Health & Education present their views to Prime Minister @narendramodi @PMOIndia @MoHFW_INDIA #NayiNITINayiDishaNayaBharat pic.twitter.com/O2Xqv0i8l6

— NITI Aayog (@NITIAayog) January 10, 2018
Economists & Sector Experts present their suggestions on India's Employment Sector to PM @narendramodi #EconomicPolicyRoadAhead #NayiNITINayiDishaNayaBharat pic.twitter.com/SnHqf1WoBc

— NITI Aayog (@NITIAayog) January 10, 2018
Experts on Macroeconomic Balances present their ideas & suggestions to PM @narendramodi for #EconomicPolicyRoadAhead #NayiNITINayiDishaNayaBharat pic.twitter.com/8uwU4I11wG

— NITI Aayog (@NITIAayog) January 10, 2018
The emphasis of the meeting was on sharing the views of the experts from all over the country on the road ahead for the economic policy to steer the nation towards a New India envisioned by the prime minister, an official released said on Tuesday. 
The meeting comes in the backdrop of latest estimates of national income by Central Statistics Office (CSO) which showed that India's growth is expected to slow down to four- year low of 6.5 per cent this fiscal, the lowest under the Modi-led government. 
The Gross Domestic Product (GDP) was 7.1 per cent in 2016-17 and 8 per cent in the preceding year. It was 7.5 per cent in 2014-15.