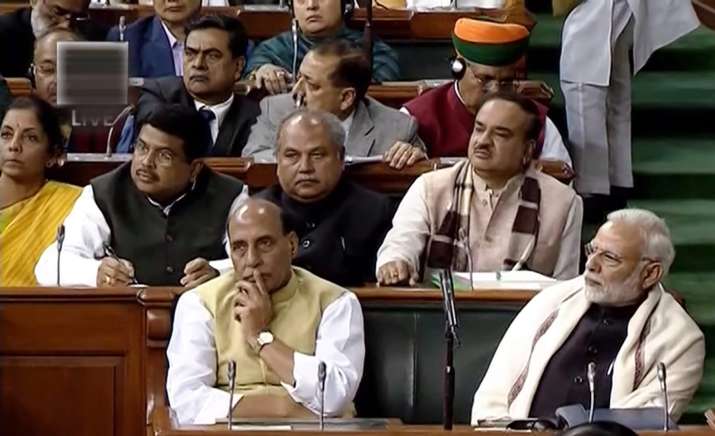 Union Budget 2018 presented by Finance Minister Arun Jaitley has drawn polar responses form the political parties in Opposition and in BJP camp. While Prime Minister Narendra Modi and BJP President Amit Shah hailed the budget for being pro-poor and a roadmap to New India, the Opposition condemned it as 'discriminatory', 'destructive' and 'super flop'. 
Here are top reactions from the government and Opposition on Budget 2018:
Narendra Modi, Prime Minister, BJP 
"This budget has devoted attention to all sectors, ranging from agriculture to infrastructure. This Budget is farmer friendly, common citizen friendly, business environment-friendly and development friendly. It will add to 'Ease of Living'. The farmers, Dalits, tribal communities will gain from this Budget. The Budget will bring new opportunities for rural India. I congratulate the Finance Minister for the decision regarding MSP. I am sure it will help farmers tremendously."
Amit Shah, BJP President
"This budget gives new wings to the aspirations of the poor, farmers and the middle class. The New India Budget will truly empower all sections of the society to attain prosperity."
Rahul Gandhi, Congress chief
"4 years gone; still promising FARMERS a fair price. 
4 years gone; FANCY SCHEMES, with NO matching budgets. 
4 years gone; no JOBS for our YOUTH. 
Thankfully, only 1 more year to go.
#Budget2018"
P Chidambaram, Congress leader
"The finance minister fails the fiscal consolidation test and this failure will have serious consequences."
Nitish Kumar, Bihar CM, JDU
"This (National Health Protection) grand initiative will be covering 10 crore families that means almost 50 crore people will get coverage upto Rs 5 lakh rupees every year," 
Sitaram Yechury, CPI-M leader 
Yechury said Finance Minister Arun Jaitley's 2018-19 budget was "unconnected to ground realities".In his reaction to Prime Minister Narendra Modi government's last full budget before the next Lok Sabha election, Yechury said it "is a textbook exercise in post-truth".
Rajiv Kumar, NITI Aayog Vice Chairman 
"It is indeed a positive budget... Not only did the Finance Minister (in his Budget speech) say that the Minimum Support Price for Kharif crops would be 1.5 times the input cost, but he also talked about cluster development, linking farmer with the market and getting them fair price for their produce. He also focused on irrigation and rural infrastructure," Kumar told DD News.
"The Budget made agriculture the centre of the economy because if farmer incomes double and agriculture sector progresses at a fast pace, our economy will grow at eight per cent," he said.
Akhilesh Yadav, Samajwadi Party chief
"In its last budget, the BJP has shown it only favours the capitalists. Now people will reply. It's a slap on face of traders, women, working class and the common man. The poor, farmers, labourers are disappointed. This is an arrogant and destructive budget, which ignores problems of the masses." 
Derek O'Brien, TMC leader
"It is a super flop, a big bluff show. This Budget is the dying declaration of a government whose time is up." 
Devendra Fadnavis, Maharashtra CM, BJP
"With an aim to put more money in farmers' pockets, the Centre has decided to increase the minimum support price (MSP) of all crops by at least 1.5 times of the production cost.  The Mudra loan has been given to more than 10 crore people, of whom seven crore are women and five crore are from the scheduled castes and other backward classes." 
"It is another history created by the Modi government. This is the world's largest health care initiative. Under the new scheme, 50 crore people would get free health care benefits up to Rs 5 lakh per family for treatment." 
Mayawati, BSP supremo
In a statement issued here, she said like the previous budgets of the Narendra Modi government, this one was also "anti-poor and pro-capitalists". "What happened to Modi's promise of 'achchey din' he had made before the Lok Sabha polls in 2014?" she asked. 
Arvind Kejriwal, Delhi CM, AAP
"I had expected some financial assistance to important infrastructure projects for the nation national capital. Am disappointed that the Centre continues its step-motherly treatment to Delhi."
(With Inputs from PTI)
Watch the full budget speech by Finance Minister Arun Jaitley here: