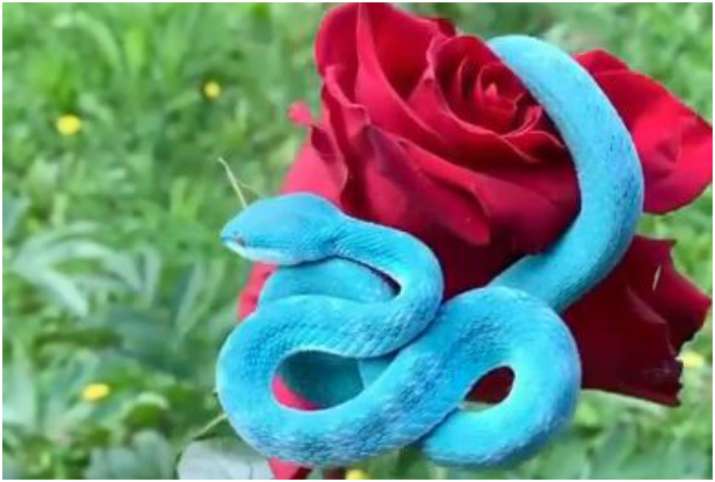 Nature is beautiful and surprising at the same time. Recently a video has started doing rounds on the internet where a blue pit viper is seen lying over a dark red rose.
The video became viral in no time and left many people in awe.
Check out the video here:
As soon as the video became popular, reactions started pouring in from all over. While some were going crazy over the snake's bright colour, some seemed scared after looking at the venomous animal.
How beautiful is this blue pit viper and watch it stand out against the dark red rose.

— Pritish Nandy (@PritishNandy) September 19, 2020
More venomous than beautiful. Not to be messed with at all.

— Vivek Shukla (@iamVivekCShukla) September 19, 2020
As cute and adorable and butiful as it is pleas respect it and dont toch it, they are very venomous and adorable

— scrafty (@scrafty7) September 17, 2020
Thanks for the nightmare!

— Evanoruvan (@naanumpaarkuren) September 17, 2020
I want this rose.....was what I was going to reply before I read other comments and found out it's poisonous 😅

— The Verlorener (@the_verlorener) September 19, 2020
Roses are red🌹
Snake is blue🐍
That's a venomous pit viper...
That looks beautiful to you..😂

— Ashish Rath (@Ashish_Rath_28) September 19, 2020
One can give the fragrance and one can lead to death.... dangerous and beautiful

— Laxmi (@Miss_SinghL) September 19, 2020
Haven't watched before this combination of beauty and danger 😲 venomously beautiful 👌

— Rinkal Bajpai (@BajpaiRinkal) September 19, 2020
procoagulant venom.. terrible way of death.

— Hale (@stwentwrong) September 17, 2020
What are your thoughts on this viral video?