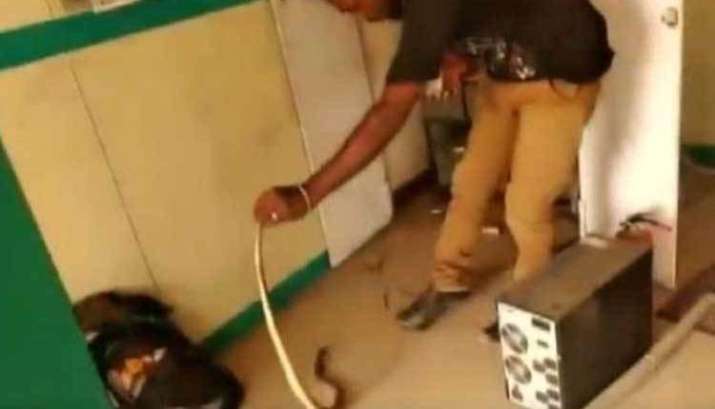 Just imagine you go inside an ATM just to be greeted by a snake! Well, that's what very much happened in an ATM in Tamil Nadu recently. A snake was found inside an ATM in Tamil Nadu's Coimbatore city on Tuesday. A snake catcher was quickly summoned who later rescued the small limbless reptile. Now, a video of the snake catcher rescuing the snake has surfaced online and gone viral across the internet.
In the video, the snake catcher is seen searching inside the ATM. The snake is found behind some machine placed beside Automated Teller Machine which disburses money. No one was hurt in the incident. It was not clear who spotted the snake or how it made inside the ATM. 
Watch the heroic rescue video here
#WATCH Tamil Nadu: A Snake found inside an ATM near Thaneerpandal Road in Coimbatore; later rescued by a snake catcher. ( 23.04.2019) pic.twitter.com/Yk6YSOIQVn

— ANI (@ANI) April 24, 2019
In another incident reported from Kerala on Tuesday, a small snake was found inside a VVPAT voting machine in a polling booth at Mayyil Kandakkai in the Kannur constituency of Kerala.
The reptile who had visited the polling booth unexpectedly held up the voting for a small period and even horrified the voters and election officials. However, the snake was safely removed and voting at the polling booth resumed after a short delay.
(With ANI Inputs)