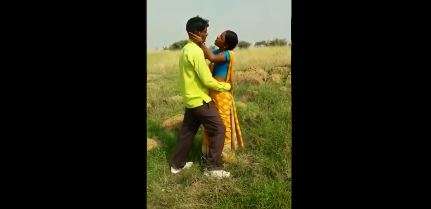 This is what 'shuddh desi pyaar' looks like. Netizens cannot seem to have enough of a couple seemingly trying to recreate Salman Khan and Bhagyashree's romantic number from 'Maine Pyaar Kiya' -- 'Dil Deewana'. The video has gone viral, and we can only exhort Salman bhai to watch it.
Dressed in yellow outfits -- similar to those worn by Salman Khan and Bhagyashree in the song, the couple dances to the song, while lip-syncing to it. Another difference is the setting in the background -- the original song had a lake and grass. This one has fields.
Though Salman Khan hasn't reacted to it yet, his co-star of 'Patthar Ke Phool' and 'Andaz Apna Apna' Raveena Tandon has.
Hahaha this is the sweetest video on the net that I've seen today 👍🏻 https://t.co/zrZ2evID7a

— Raveena Tandon (@TandonRaveena) November 13, 2019
People weren't behind in reacting to the short clip.
शुद्ध देशी और अमर प्रेम संगीत भइया जी. 🙏😊

— 🇮🇳 निरंजन कुमार सिंह 🇮🇳 (@niranjanchauh19) November 13, 2019
Choreography Better than the original version pic.twitter.com/XwNKoAtWun

— Pachipulusu (@soma_lingam) November 13, 2019
Really nice ... pic.twitter.com/8bpG6AaM3U

— T͆h͆e͆ W͆i͆n͆g͆s͆ o͆f͆ f͆i͆r͆e͆ 🇮🇳 ║▌║▌║█│▌ (@IAMSJNOW) November 13, 2019
All the blessings for you two very touching and you are my real India. Remain happy always as this video is... https://t.co/mNkB785VkI

— Sunil kumar kuls (@KulsSunil) November 13, 2019
How innocent. I really envy these couple. Iswar hamesha aise hi khush rakhe dono ko.

— Santanam (@invitrosantanu) November 13, 2019
बाकि छोडिए, मासूमियत देख रहे है दोनो की 🤣🤣🤣

— अमिय | पीयूष: | 𝙿𝚎𝚎𝚢𝚞𝚜𝚑 🇮🇳 (@PeeyushSharma_) November 13, 2019
All we can say now is.... Please Salman bhai, watch this na...!