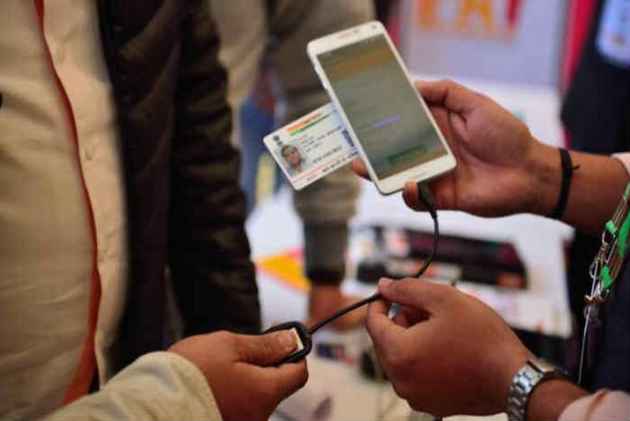 In less than 10 days from now, customers using Airtel, Reliance Jio, Vodafone and Idea connections on their mobile phones will not have to visit the offices of their respective telecom service providers to get their numbers linked to their Aadhaar numbers. Currently users have to go to the store and do the eKYC with their fingerprints.
Starting December 1, these telecom operators will begin extending an OTP-based service for the mobile number-Aadhaar linkage following directions issued by the Unique Identification Authority of India (UIDAI) to this effect.
The UIDAI had last week approved the telecom operators' blueprint presented by telecom companies to operationalise the OTP-based sim reverification of existing subscribers from December 1.
"Their (telecom operators') plans have been approved... They have come and we have told them they will implement (the process) from December 1," UIDAI CEO Ajay Bhushan Pandey told news agency Press Trust of India last week.
Mobile number-Aadhaar linkage mandatory
The government has made it mandatory for telecom subscribers to authenticate their mobile numbers and validate them using the 12-digit unique identification number. The last date for the linkage is February 6, 2018.
In November, PTI reported that the Supreme Court had refused to accept a new plea challenging the linking of mobile numbers with Aadhaar card numbers as it is listening to several such petitions.
In March, the Department of Telecommunication (DoT) has issued an order calling for linking of mobile numbers with Aadhaar card data. The latest petition wanted this order to be declared "unconstitutional" and "null and void".
How to link Aadhaar with mobile if you are using another number
A key problem some people may face is that they no longer use the mobile number they have linked with their Aadhaar card. In such a case, you may find it difficult to access the OTP your telecom operator sends.
As per the exercise starting December 1, mobile operators will send the OTP only to the mobile number mentioned in your Aadhaar details. As such, if you do not use that number now and do not have access to the SIM, you cannot use the OTP facility for Aadhaar-mobile linkage.
However, you will still need to authenticate your mobile number and will need to visit the store of your mobile operator to get your new number verified. You will need to carry your Aadhaar card for this purpose and the authentication will be done using a fingerprint scan.
For the convenience of people, the government has ordered the companies to carry out the exercise at their homes in case of the disabled, chronically ill and senior citizens.