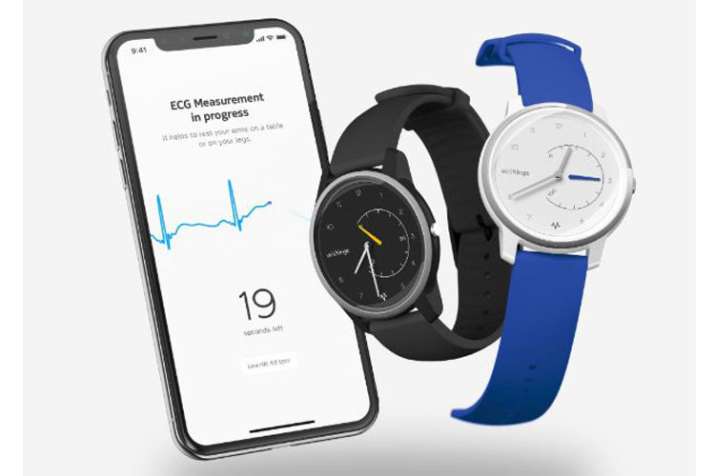 Withing a popular digital health products and services company has launched the new Move ECG analog watch, which according to the company is the world's first analog watch that can record an electrocardiogram (ECG) on-demand to monitor cardiovascular health and also detect heart conditions like atrial fibrillation (AFib). The company has also introduced a standard Move that comes without ECG and up to 18 months of battery life.
Also, read: CES 2019: Garmin Vivoactive 3 Music LTE Smartwatch launched
The Move ECG comes with a medical grade heart monitoring technology that can potentially take an electrocardiogram on-demand that can help in detecting AFib that is known to be a common heart arrhythmia. The watch has the ability to monitor heart health levels via simple and discreet gestures that include three electrodes that guarantee measurement accuracy.
With less than 30 seconds of measurement, the Move ECG vibrates and notifies the user that the reading is complete, which then syncs automatically with the Health Mate app and shows if the heart is beating normally or there is a sign of AFib.
The Move ECG has a dedicated Health Mate app that comes on Android and iOS to provide insights, data activity reminder, set goals and manages successes. The watch can also connect to other third-party apps like Google Fit, Apple Health as well as MyFitnessPal.
The Withings Move comes priced at $69.95 (Rs 4,930 approx.). It will be up for orders in the US and will start shipping from 5th February. The Withings Move ECG comes priced at $129.95 (Rs 9,160 approx.) that will come in Q2 of 2019.
Also, read: Asus Zenfone Max Pro M2 Review: Great budget phone, with massive battery and decent camera that needs work