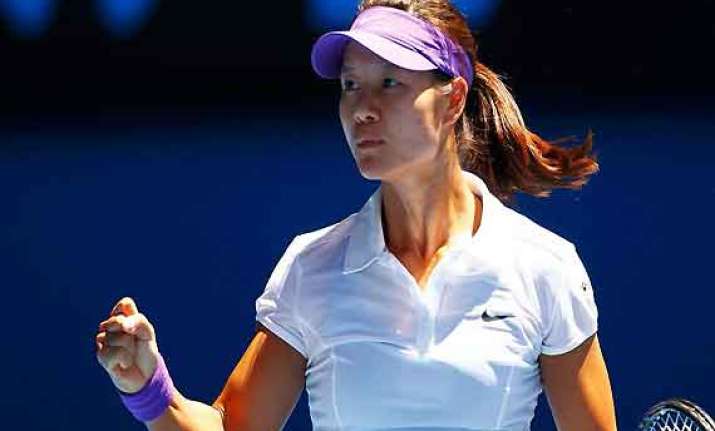 Istanbul: Li Na swept past the ailing Victoria Azarenka 6-2, 6-1 to earn a place in the semifinals of the WTA Championships at the expense of the second-ranked Australian Open champion on Friday.
Azarenka hurt her back while serving in the sixth game of the first set and was clearly in pain for the rest of the match. She took a medical timeout and received treatment during several changeovers but stayed on court despite being hardly able to move and wincing in pain, at one moment coming to tears.
"I just wanted to try to do my best for the fans who came and watched our match, for respect for my opponent. It was just about trying to do the most you can out there," Azarenka said.
She did win one game with some ferocious serving, but mostly stayed in the middle of the baseline and tried to hit quick winners if the ball came her way.
"You know, in the end of the day, it's my decision what I'm going to do," Azarenka said.
Azarenka said her back suddenly seized up as she tried to serve hard and that the trainers told her there was structural damage.
Li, who lost to Azarenka in the final of the Australian Open and in both previous round-robin matches at the WTA Championships 2012 and 2011, said her toughest challenge Friday was mental.
"I mean, today the match is not about tennis, about fitness ... because I thought maybe after the first set she will give up or retire, but she still try to continue to play," Li said. "I think it's tough because I have to focus, hope all time, because you never know what happen on the court."
In the Australian Open final, it was Li who was in trouble. She twisted her ankle and hit her head in a stumble before losing in three sets.
"Next time we both have to be healthy on the court," Li said.
Li won the group 3-0, while Azarenka finished 1-2. Azarenka's loss meant Jelena Jankovic advanced to the semis before she had to play Sara Errani late Friday.
Jankovic will play defending champion Serena Williams in the semifinals. Williams swept her group on Thursday.
Although she did not play, Williams did appear on court, to collect the award for finishing the year as No. 1 in the world. Williams has clinched the year-end No. 1 ranking for the third time in her career after 2002 and 2009.
The fourth-seeded Li will play either Petra Kvitova or Angelique Kerber.
Li is through to her first semis in three appearances in the elite event that brings together the top eight women.
Despite failing to reach the semis, Azarenka said she was pleased with her year.
"I'm No. 2 in the world. I had great results in the big tournaments and I had injuries," Azarenka said. "So, it's that balance of good and unfortunate. I think I can learn a lot from these little things to prevent maybe some of the injuries."