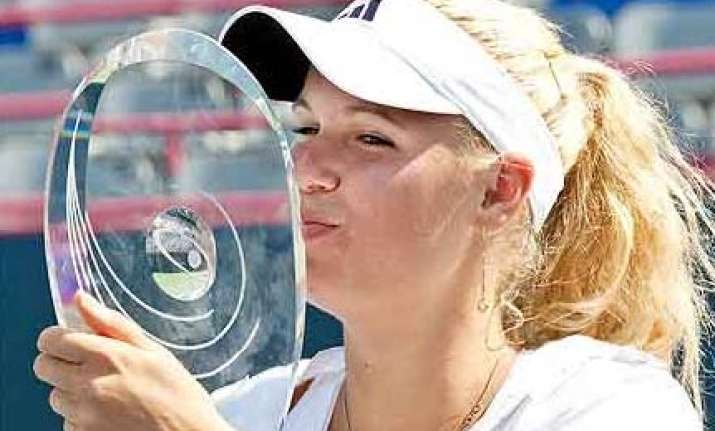 MONTREAL: Denmark's Caroline Wozniacki easily beat Vera Zvonareva 6-3, 6-2 on Monday in the final of the rain-hit WTA Rogers Cup, one of the last tune-up events for the US Open.
The 20-year-old Wozniacki defeated the Russian in a Monday championship game which was pushed back a day after heavy rains washed out play over the weekend.
The second-seeded Wozniacki started the day by defeating Svetlana Kuznetsova in the semi-finals.
Zvonareva, the eighth seed, also advanced earlier in the day when Belarus' Victoria Azarenka pulled out of their semi-final match in the second set because of a blister on her foot.
Wozniacki is ranked second in the world and will likely be the top seed when the US Open starts August 31.
Wozniacki earned 350,000 dollars for her third title of 2010. She also won at Ponte Vedra Beach, Florida and in her home city of Copenhagen. She is seeking her first Grand Slam title.
"It was tough for all of us waiting out the rain for two days," said Zvonareva, a Wimbledon finalist. "It was difficult for me. It was a different court, different conditions. I tried my best but it wasn't enough against Caroline."
Leading 5-3 in the first set, Wozniacki was down 0-40. But she then won five consecutive points to close the set.
After breaking serve for a 5-2 lead in the second, Wozniacki clinched it with four consecutive points on her serve, executed a fist pump and then shook hands at the net with her opponent.
In the semifinal, trainers worked on Azarenka's blister for several minutes. She got up and tried to walk, but immediately returned to her chair.
She said the blister would not keep her out of the US Open.
"I don't see how I got a blister after sitting on my (rear end) for two days," said Azarenka.