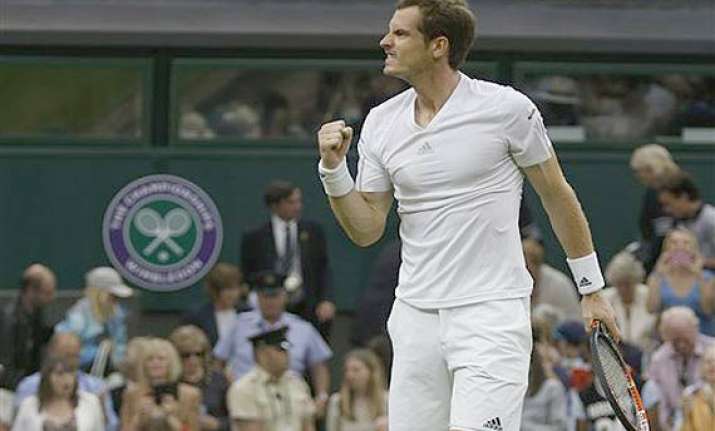 LONDON :  Without the loss of a set so far, Andy Murray is back in familiar territory at Wimbledon.The defending champion advanced to the quarterfinals for the seventh year in a row Monday, beating Kevin Anderson of South Africa 6-4, 6-3, 7-6 (6) in a Centre Court match that finished under the roof after a brief rain delay in the second set.
The third-seeded British player extended his winning streak at the All England Club to 17 matches, including his run to the gold medal at the 2012 London Olympics.Murray has lost only 32 games in four matches and is one round away from a potential semifinal duel with top-seeded Novak Djokovic, the man he beat in last year's final to become the first British man to win Wimbledon in 77 years.   
"All of the matches are tough," Murray said. "Everyone that's in the quarterfinals of Slams, they're playing top tennis. I just have to do what I've got to do and concentrate on my side of the court. If I play well, I'll make it tough for them."Next up for Murray will be No. 11 Grigor Dimitrov, who swept past Argentina's Leonardo Mayer 6-4, 7-6 (6), 6-2 on Court 1 to reach the Wimbledon quarterfinals for the first time. He's also the first Bulgarian man to get this far at the All England Club.   
Murray neutralized the big serving of Anderson, whose first serves averaged 123 mph (198 kph), earning 19 break points and converting four."Some days you get lucky with that," Murray said. "Some days you don't. You pretty much guess a lot of the time. Sometimes you go the wrong way and sometimes you go the right way, and thankfully today I picked a few good ones."   
Eugenie Bouchard, the 13th-seeded Canadian, won the last four games to defeat France's Alize Cornet -- the player who stunned Serena Williams on Saturday -- 7-6 (5), 7-5 to reach the quarterfinals.Bouchard's victory set up a potential quarterfinal duel with Maria Sharapova, the former Wimbledon champion who beat her in the semifinals en route to the French Open title last month.   
"This is what I've worked so hard for, to be in the quarters at Wimbledon," Bouchard said. "But I want to go another step. I want to keep going." Sharapova had been scheduled to play Angelique Kerber on Monday, but the match was postponed until Tuesday because of rain that disrupted the day's play.   
Bouchard, the only woman to reach the semifinals this year at both the Australian Open and French Open, became the first Canadian to reach the quarterfinals at Wimbledon since the Open era began in 1968.The United States, meanwhile, was left with no player -- man or woman -- in the draw after John Isner lost and Madison Keys pulled out with an injury. It's the first time since 1911 that no American men or women have reached the round of 16 at Wimbledon.   
"Didn't know that," Isner said. "Don't really care either."The ninth-seeded Isner hit 52 aces but fell to 19th-seeded Feliciano Lopez 6-7 (8), 7-6 (6), 7-6 (3), 7-5. Lopez earned the only service break of the match in the next-to-last game with a cross-court backhand passing winner. It was the only time Isner was broken during his three matches this year at the All England Club.   
A three-time quarterfinalist at Wimbledon, Lopez will play Australian Open champion Stan Wawrinka next.The 19-year-old Keys withdrew from her uncompleted third-round match against Yaroslava Shvedova because of a strained left thigh. The match had been suspended by darkness on Saturday, with Kazakhstan player leading 7-6 (7), 6-6.   
Among the women reaching the quarterfinals were three Czech players -- 2011 champion Petra Kvitova, Lucie Safarova and unseeded Barbora Zahlavova Strycova.
Zahlavova Strycova, who downed No. 16 Caroline Wozniacki 6-2, 7-5 to reach her first Grand Slam quarterfinal, served a six-month doping ban until April 2013 after testing positive for the stimulant sibutramine. She said Monday that she had considered quitting the sport during the suspension.   
"I didn't want to come back and play again and compete," she said. "But it was just a short period of time. Like one month I was thinking like this. Then I was, `Yeah, what I'm going to do?' I really like it. I love the sport.' And then I didn't ask myself anymore."