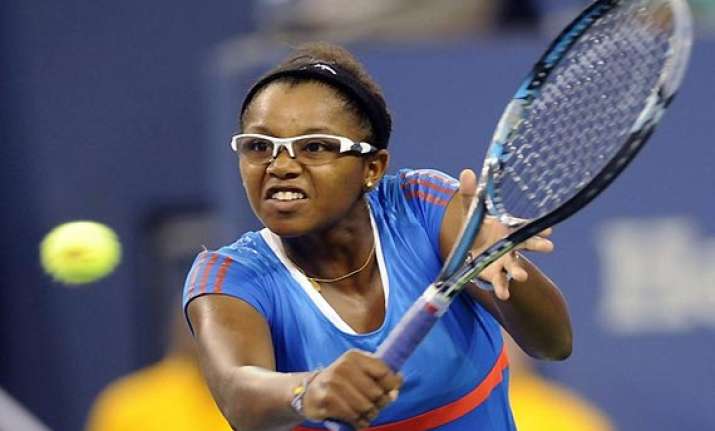 New York: Seventeen-year-old American Victoria Duval had a dream US Open first round show on Tuesday when she beat 2011 champion Samantha Stosur of Australia 5-7, 6-4, 6-4.
The world number 296 teenager posted her first win in her second Grand Slam match. She lost to Kim Clijsters in US Open first round last year.
"I know she didn't play her best today, and this is the best I've played in my career, so I'm really excited," Duval was quoted as saying by Xinhua.
"I just tried to stay in the moment."
The match turned out to be a tough one even from the first set, in which Stosur edged her young opponent 7-5. The loss of first set didn't influence Duval much, the Miami-born star finished the second set 6-4 before she forced four match points in the last game of the decisive set.
Duval converted the fourth match point to a victory, and the Arthur Ashe Stadium erupted with applause.
She next faces Daniela Hantuchova from Slovakia in the second round.
The second seed Victoria Azarenka was much luckier than Stosur. The Belarusian concluded Tuesday's matches with a 6-0, 6-0 perfect win over Dinah Pfizenmaier.
In the men's side, top seed Novak Djokovic had a 6-1, 6-2, 6-2 victory over world number 112 Richard Berankis. It only took the current world number one 82 minutes to finish the match.
"I think the night sessions in New York are quite different from any other tournament because of just the vibe that you feel with the people, the crowd gets involved," said Djokovic. "It's very exciting, always entertaining."
Djokovic outperformed his opponent both offensively and defensively, and the winner of six Grand Slam was looking forward to taking back his US Open trophy which he lost last year on the same court.
"This is the last Grand Slam of the year," said Djokovic. "I have high expectations for myself."
"Knowing that I've done so well in past years, had such a good record, gives me enough reason to have this confident and optimistic approach."
The seventh seed Roger Federer, fifth seed Thomas Berdych and 13th seed John Isner also advanced to the next round.