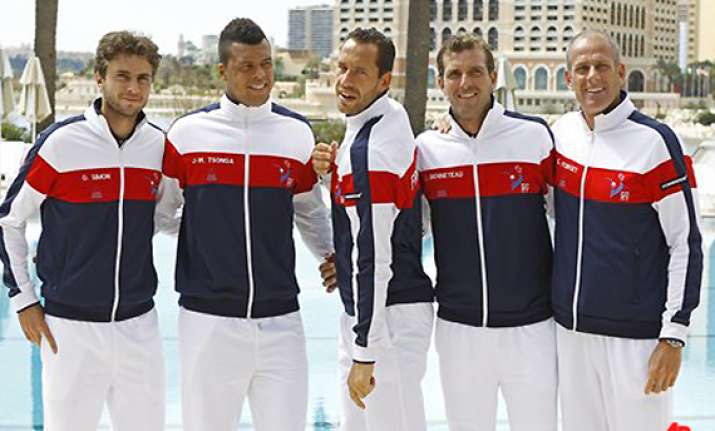 France, Apr 7:
Jo-Wilfried Tsonga must beat John Isner on Sunday to keep France in the Davis Cup after Bob and Mike Bryan crushed Julien Benneteau and Michael Llodra, giving the United States a 2-1 lead in their quarterfinal.
The Bryans showed just why they are the No. 1 doubles pairing in the world, and unbeaten in Davis Cup since 2008, by swatting aside the French pair with such conviction that they did not face a single break point in their 6-4, 6-4, 7-6 (4) win on Saturday.
The momentum is clearly with the Americans at the Monte Carlo Country Club, and France captain Guy Forget hopes Tsonga, the former Australian Open finalist, finds his best form to thwart Isner.
"He wanted to play on clay, now we must go and get the win. We all have our duties and responsibilities," Forget said. "It's a heavyweight contest between two big hitters."
The sixth-ranked Tsonga looked shaky at times when he beat the inexperienced Ryan Harrison in four sets on Friday, and the 11th-ranked Isner's huge serve and dominant forehand present a much bigger threat than Harrison's explosive, yet loose shot-making.
"Jo has to serve well throughout," Forget said. "He has to hold his service games at all costs."
No. 13 Gilles Simon is then set to play the 19-year-old Harrison, ranked 66th, in what could be the decisive rubber.
"We're stronger on paper," Forget said. "The Bryans' win was logical, and so will Jo and Simon's (win) be (logical) tomorrow. Otherwise we don't belong in the semifinals."
Forget had hoped for an upset over the Bryans, but the French were always up against it after losing their serve at the start of the first and second sets.
"We were ready for a dogfight," Bob Bryan said. "I thought we did a great job of not letting the crowd get too loud."
Although the French showed more fight in the third set, their defeat was comprehensive.
"We both served at a high percentage, that's always key," Mike Bryan said. "We're good frontrunners, so we played hard."
Forget was disappointed with how his players approached the match, and said they lacked composure.
"It's all well and good preparing the match the night before, saying we had to play along the line every other (point), they didn't do it enough for my liking," he said. "There were some nerves at the start of the match as well, more from Julien. It's understandable. One, what's at stake? Two, the opponents. Three, the weather conditions. There was more wind today, it was swirling around a lot."
The tone was set from the start when Llodra's double fault gifted the Americans the lead, even though France had been 40-30 up in the opening game. Mike Bryan's crisp volley made it 2-0.
The last time the Bryans lost a Davis Cup match together was against France, four years ago, when Llodra was alongside Arnaud Clement.
It never looked like happening again.
"From my point of view, I think we should have had break points," Forget said. "It's not like (facing) John Isner, where you're not going to have any break points because he serves so big and so well that you just hope that he's going to double fault.
"But we had some (chances) where we could have done better. Mike doesn't serve 200 (kilometers per hour) all the time."
Benneteau lost his serve at the start of the second set when his smash went out. With Mike Bryan serving next, the Americans briefly wobbled at 0-30, but Benneteau whacked a return into the net and then Mike Bryan clipped a volley down the line.
Llodra held to love at the start of the third set to raise hopes a little, but it was not until the 10th game that they started to really generated any pressure, despite the crowd's best efforts.
Benneteau planted a stinging return into Bob Bryan's feet on his second serve to make it 15-30, but the threat fizzled out.
"At that level, when you play a team that's so good and so solid you can't afford to miss those (chances)," Forget said. "Overall I thought Bob and Mike were more consistent. That's what doubles is all about, they played solid."
France was up 2-1 in the tiebreak but slipped quickly down to 5-2.
Llodra's long forehand offered match point, which the Americans converted when Benneteau's backhand down the line sailed out.