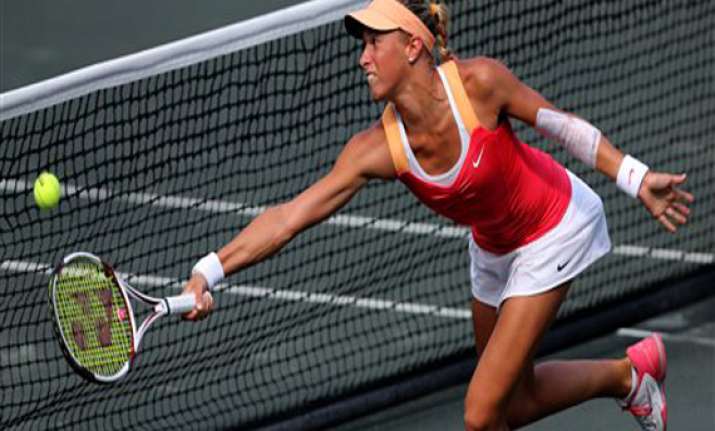 Charleston, South Carolina, Apr 7 : Reigning U.S. Open champion Sam Stosur prevented another matchup in the Williams sisters' sibling rivalry by beating Venus Williams in three sets on Friday at the Family Circle Cup.
The second-seeded Stosur won five of the last six games of the match for a 6-3, 4-6, 6-3 victory in the quarterfinals on a chilly, windy Friday at the season's first clay-court event. Stosur now has a chance of knocking out both Williams sisters on consecutive days when she meets Serena in Saturday's semifinals.
While Stosur had never beaten Venus Williams before, she has had success against Serena. Stosur beat her to win the U.S. Open title last September and won their only match on clay at the 2010 French Open quarters.
"For sure, clay's not my favorite surface," said Stosur, the 2010 Family Circle champion. "It's always tough playing Serena no matter where."
 Serena Williams advanced when opponent Sabine Lisicki twisted her left ankle early in the opening set and had to withdraw after five games.
The other semifinal will be between Lucie Safarova and Polona Hercog.
The ninth-seeded Czech Safarova beat No.4 Vera Zvonareva of Russia 6-3, 6-3, while No. 14 Hercog of Slovenia breezed past 13th-ranked Russian Nadia Petrova 6-1, 6-2.
The buzz for a Williams' sisters showdown had grown all week as the two Americans moved through the draw. Both came into Friday without losing a set and appeared ready to settle some family business at the Family Circle Tennis Center.
This was Venus Williams' first clay-court tournament since 2010 and her second event since a bout of autoimmune disease Sjogren's Syndrome kept her out of the game since last summer's U.S. Open. Williams won four times last week at the Sony Ericsson Open and had carried that success forward into the Family Circle quarterfinals.
She could not get past Stosur, though, and won't play again until next month in Madrid.
"I have come so far, so far from the U.S. Open," she said.
Stosur shook off some tired legs from an earlier match -- the Australian was forced to come back Friday morning and finish her rain-delayed match from the night before -- and some wayward serves midway through to move past Williams.
Stosur is seeking her second Family Circle Cup title in three years.
Early on, it looked as if Serena Williams might have a fight on her hands as Lisicki stood toe-to-toe with the 13-time grand slam winner.
However, as Lisicki moved to her left after a shot, she apparently hurt her left ankle and fell to the court. She immediately got up and called for the trainer, who re-taped her ankle so the 22-year-old German could continue.
It was obvious Lisicki couldn't move as she had. She played three more games before retiring in tears. Serena Williams came over to console Lisicki, hugging her near the net and applauding along with the crowd as she left stadium court.
Lisicki was having an MRI. "We'll see what the doctors say and we'll go from there," she said.
Williams has had her share of injuries that forced her to miss major tournaments. She told the young German that she had time to heal and would be back.
"I said, `It's OK. It's not the French Open. You've got time to get better."'