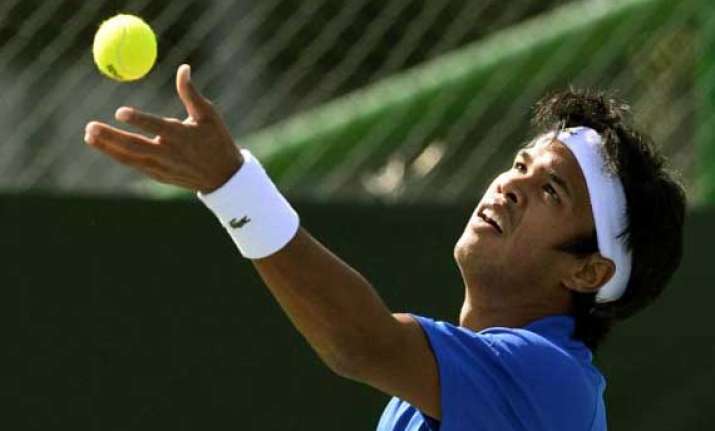 Indore: With India's recent Davis Cup triumph against Chinese Taipei coming without the experience of Leander Paes and Mahesh Bhupathi, the country's numero uno singles player Somdev Devvarman feels it is time that the focus shifts from the veteran duo to the youngsters.
India thrashed Chinese Taipei 5-0 in the Asia/Oceania Group I tie here and Somdev said although the team will forever remain grateful the contribution that Paes and Bhupathi made, the time has come to look ahead.     
The 28-year-old, who is currently ranked 103rd in the ATP list, also spoke about his role in the players' revolt against the national federation and eventually founding of Indian Tennis Players' Association (ITPA) last year.     
In a free-wheeling chat with PTI, Somdev also said he would remain stubborn about his game not change anything about it.     
Excerpts from an interview.     
Q: The best thing in this tie was team camaraderie. Isn't it good to not have groups in the Indian Davis Cup team. Leander or Mahesh not being there?     
Ans: Let's not focus on Leander and Mahesh. Let's focus on the youngsters. Jeevan asked 15 times during and before and after my match what I need. And he knows I will do the same when he will play. So we are all here helping out each other. I think the focus should not be there on Leander or Mahesh. The focus should be on the group of guys who are here. The focus should be on the new captain. Because this is the future.     
We appreciate everything they have given us but now we need to move on. Mahesh has said he is done this year. Leander is a fantastic player, unfortunately he is not available for national duty this year but we will just go ahead. No matter, who is there or not there. We will try to make the best of whatever we have.
Q: Your game has always been of retrieving the ball and wearing out the opponent in long rallies. But there has been this criticism that you play defensive and it does not work against somebody who is going broke. How willing you are to tweak your game for better results?     
Ans: Sport in general works a lot on momentum. When things are not going well for you, everything goes against you and when things are going for you, everything looks great. Tennis is a long season and a long career as well. It is important not to be discouraged, not to be disheartened by what's going on. I feel, I have got to where I have got because of my self-belief.     
Sometimes when there is lack of self-belief, then little things, like you said defense not working, come but when there is self-belief suddenly those things turn around really fast and you ask a different set of questions. In my experience, all it takes is a few matches for anything to swing things either way in terms of results. So, I am more focussed on staying healthy and playing my game. It's important for me to stay true to my game because that's what got me so far and will keep taking me ahead.     
Q: So you are convinced that you don't need to bring that element of attack in your game?     
Ans: There has to be a constant wish for improvement. No matter how far I am in my career, I will always tell you one of the things I need to do is improve myself. That I need to be more aggressive on my returns, that I need to come in more and put volleys away. But at the same time I cannot take away the whole identity of myself and my game. There will be a few points here and there, maybe 10 points in a match, that change. But for the majority of a match, 150 points that I play, will have to be played my way.     
Q: Is it really difficult for a player to change the mindset?     
Ans: It is extremely difficult. Yes, mentally it is the toughest thing to do for a player, to change the way they play. For a guy like Virender Sehwag to change his mindset and play like Rahul Dravid or vice versa, it is really tough. For a guy like Roger Federer to start playing more defensively. I think, any person who is good at his sport, to some extent, is stubborn.