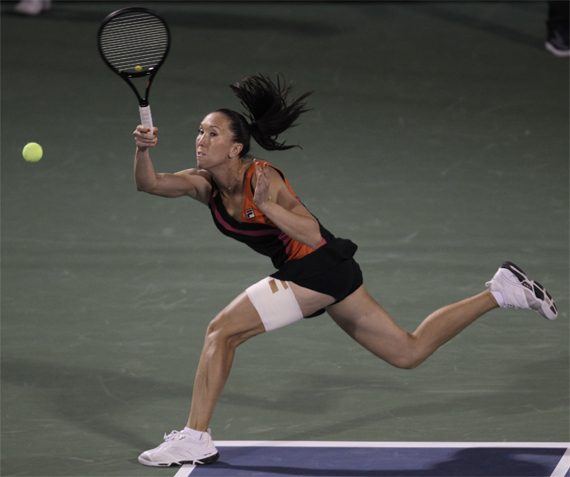 Dubai, United Arab Emirates, Feb 23: Jelena Jankovic of Serbia defeated U.S. Open champion Sam Stosur 6-4, 6-2 Thursday to reach the semifinals of the Dubai Tennis Championships.

The eighth-seeded Jankovic was in control throughout the match as the fourth-seeded Stosur struggled with her game.

The Australian seemed to rush her shots for much of the first set, hitting the ball early and returning it long and wide. Stosur broke Jankovic early in the second, but the Serb broke right back and then pulled ahead 5-2 before wrapping up the match in 1 hour, 30 minutes.

"I'm happy with the win," Jankovic said. "It's never easy. Against her, we always have tough matches."

The 26-year-old Serbian player also defeated Stosur in last year's quarterfinals in Dubai.

"I think the key was my return," Jankovic said. "You know, she (Stosur) has one of the best, if not the best, serves in the women's game. It's never easy to return her serve.

"But usually she likes to serve and then start dictating the point with her forehand. I didn't really allow her to do that ... I was pretty much in control the whole time," Jankovic said.

Stosur was disappointed she missed a chance to bounce back from last year's loss to Jankovic,

"I definitely didn't play as well today," Stosur said. "I mean, she played all right. She served quite well. I felt like I was getting pushed back.

"I think today she stayed up on the baseline quite well and I didn't," Stosur said. "But I think it was more that I don't think my forehand was as good as what it needed to be."

Jankovic will meet fifth-seeded Agnieszka Radwanska in the semifinals on Friday. The Polish player advanced after defeating ninth-seeded Sabine Lisicki of Germany, 6-2, 6-1.

Later Thursday, defending champion Caroline Wozniacki meets the other Serbian quarterfinalist, Ana Ivanovic.

Wozniacki is the highest seeded player in Dubai at No. 3 after top-ranked Victoria Azarenka pulled out of the tournament Wednesday because of an ankle injury.