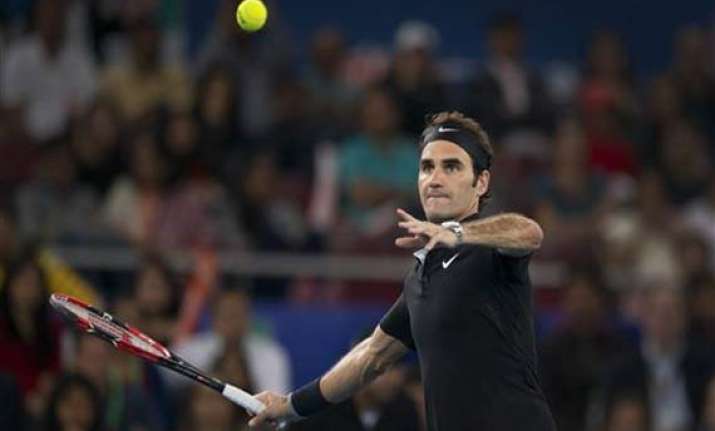 New Delhi: Shooting down suggestions that the inaugural International Premier Tennis League (IPTL) is glorified exhibition, tennis legend Roger Federer insisted Sunday that the quality of play on offer is very competitive and as a professional he is happy how the tournament has shaped up.
"I am happy that the level of tennis in IPTL is a bit competitive. As a professional you want to win but training during the off-season is also, for me, very important. I also told this to Mahesh (Bhupathi) based on the two days I could play in the tournament."
"Vacation is also equally important. Spending time with my family and not being away from them for too long is also crucial. IPTL provides that," Federer said at a press conference after steering his team to a 26-16 win over Singapore Slammers.
Association of Tennis Professionals (ATP) chief Chris Kermode earlier has been openly critical of IPTL and its format, terming it as a "glorified exhibition".
But the 17-time Grand Slam champion Federer praised the format of the competition after his debut though he put things into perspective by saying that it cannot replace the existing ATP tour.
"Definitely it is early days for IPTL. It will surely not replace the ATP tour but it has a place in the sport as it provides more excitement, more fun, different rules. It is customised to work for everybody," the 33-year-old said.
"Another good part is the team aspect. Sometime for players like us it can get really lonely on the tour. It gives players to be part of something special. The good part is also that here players can be substituted at any point so a player can back out if he is not feeling well."
He also endorsed IPTL's decision to host the tournament in Asia.
"I liked the idea that it will be held in this part of Asia, which generally doesn't get to see many tournaments. It is really fascinating for us to come here. But it creates opportunity for the fans," the right-handed player said.
But Federer didn't fancy all the innovative rules introduced in the game at IPTL.
"The stop clock is very important in this format but it is also very stressful for the players. Maybe some rules they can do away with. I am a bit traditional and like the way tennis has been played over the years and I prefer to keep it that way," he opined.
Expressing his happiness at getting the opportunity to play in India, Fedderer said he has no plans to play in Chennai Open in the near future and can only come to India to play exhibition matches.
"I am quite sure the fans were happy to see me. The way I was introduced was definitely a goose-bump atmosphere. I got a great ovation and it was definitely a cool moment in my career," the Swiss star said.
"Playing in India is probably feasible for me only in exhibition matches. I am playing in Brisbane next year. I have four kids. So, travelling becomes a bit hectic beyond a point," he concluded.