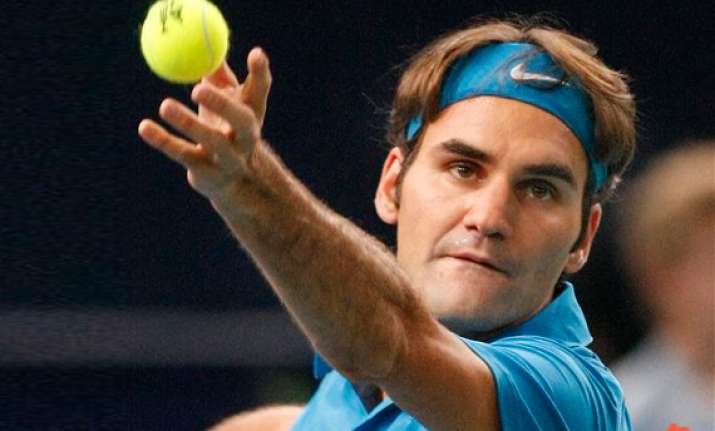 Paris, Nov 12: Roger Federer was barely troubled as he beat Tomas Berdych of the Czech Republic 6-4, 6-3 to reach the Paris Masters final for the first time on Saturday.

The 16-time Grand Slam champion looked impregnable on his serve and did not face a break point. He broke the fifth-seeded Berdych's serve at the start of each set to take control.

Berdych, the 2005 champion, looked nervous and failed to find any rhythm as Federer dictated rallies with his unwavering forehand.

Federer clinched victory on his first match point, on Berdych's serve, when he hit a forehand into the corner that Berdych returned into the net.

The Swiss star will try for his 69th title against either No. 6 Jo-Wilfried Tsonga of France or unseeded American John Isner in the final. They were playing later Saturday.

Federer won in 1 hour, 20 minutes and signaled his intent from the outset, taking Berdych's first service game and holding comfortably for 2-0.

Berdych struggled in his next service game as Federer set up another break point with a forehand pass down the line, but he saved it with a strong first serve.

That was to prove a regular sight throughout the match, with Berdych having to fight hard to win his service games, unable to pressure Federer's serve, and powerless to stand up to his relentless forehand passes.

Federer leads 10-4 against Berdych, who had won their last meeting in straight sets at the Cincinnati quarterfinals in August by attacking Federer's second serve. He got few chances this time, as Federer made 70 percent of first serves.

He won 94 percent of those first serve points in the first set, and 91 percent overall in the match.

A rare slip saw Federer double-fault on his first set point, but he clinched it on his next point with a clinical passing shot that wrong footed Berdych.

The second set started in a similar fashion, with Berdych missing a smash as he was backpedaling to give Federer two break points. Federer took his chance as Berdych hurried his shot from the baseline into the net.

When Berdych missed an easy smash at the net in the fourth game, Federer took the reprieve and hit a crisp passing shot into Berdych's feet for a 3-1 lead.

The pressure generated by Federer's ruthless forehand was wearing Berdych down. Trailing 4-2, Berdych double-faulted to give Federer another break point, but he got out of trouble with a strong second serve.

Federer held his serve in a flurry of shots to lead 5-3 and another superb winner—a crosscourt forehand hit with the casual brilliance that is Federer's trademark when on form—was his 34th of the match, and set up three match points with Berdych 0-40 down.

The former world No. 1 whipped a forehand into the corner that had Berdych at full stretch, and he patted the return into the net.