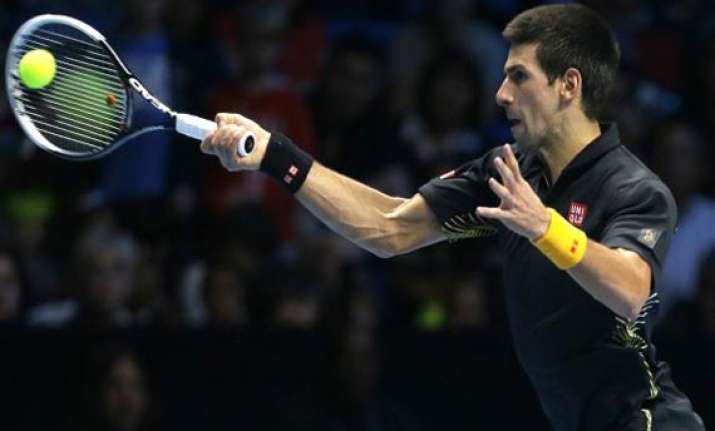 London, Nov 6 :  Novak Djokovic and Andy Murray won their opening matches Monday at the ATP finals, setting up a Wednesday showdown between two of the top three players in the world.
The top-ranked Djokovic beat Jo-Wilfried Tsonga 7-6 (4), 6-3 in Group A, hours after third-ranked Murray rallied to defeat Tomas Berdych 3-6, 6-3, 6-4.
The ATP finals is the season-ending tournament for the top eight players in the world. Fourth-ranked Rafael Nadal, however, pulled out because of injury.
Group B, which includes six-time champion Roger Federer, will play Tuesday at the O2 Arena.
Djokovic saved three break points against Tsonga in the opening set, and then looked dominant the rest of the way.
After winning the tiebreaker, the Serb broke Tsonga's serve in the opening game of the second set, and then again in the final game.
In the early match, the clang of an advertising sign must have served as a wake-up call for a frustrated Murray.
The U.S. Open champion, playing at home in Britain for the first time since winning his first major title two months ago, failed to convert 10 break points before finally finding his game and beating Berdych.
"He served very well on a lot of the break points, especially in the first set. He started to miss a few more first serves (in the) second and third sets when I had my chances," Murray said.
"That sort of helped me get into the point and find a way of being aggressive, using some variety, whereas some of the time in the first set he just completely overpowered me."
Murray missed all seven of his break chances in the first set, and then wasted three more in the fourth game of the second set.
After the third, he whacked the ball in anguish, but even that failed to make it to the other side of the court. Instead, it clanged off the sponsor sign hanging on the net.
Berdych then put a forehand wide, and Murray finally earned the break he needed to take the second set when his Czech opponent's forehand sailed long, making it 3-1.
"Unfortunately there was just, well, small details that just decided today," said Berdych, who had wasted three break points in the previous game.
"Just hit a forehand return, and it was just like small out. And who knows, it could be 2-1, early break after winning the first set."
In the third set, Murray didn't waste his only opportunity. He converted the one break point he earned in that final set to take a 2-1 lead, and then lost only three points on his serve the rest of the way.
"Indoor matches—when both of us, I thought, served pretty well, weren't losing too many points on our first serve—it can hinge on a couple points here or there," Murray said.