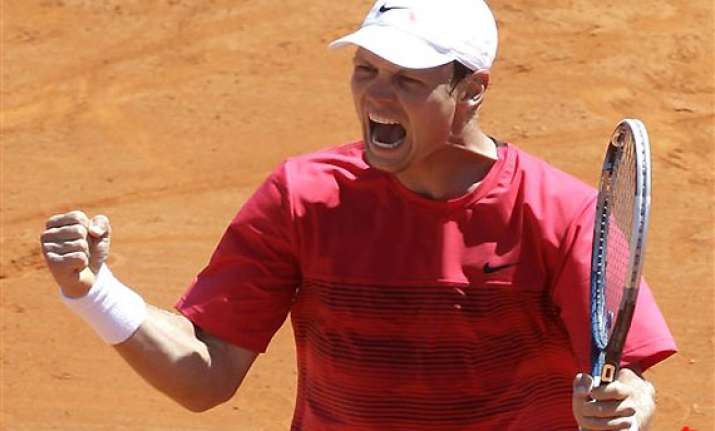 Monaco, Apr 20: Tomas Berdych took advantage of a wayward performance from Andy Murray to win 6-7 (4), 6-2, 6-3 Friday and reach the semifinals of the Monte Carlo Masters.
The third-seeded Murray was struggling for most of the match, saving seven break points -- including four set points -- to win a tight first set that Berdych let slip.
Murray varied his game to try to stem the Czech's momentum but overly used the drop shot, and the sixth-seeded Berdych came back strongly to break Murray's serve twice in the second set and another three times in the third.
Berdych clinched victory on his first match point with another forehand pass that had Murray rooted to the spot. He next faces either top-ranked Novak Djokovic or unseeded Robin Haase.
"He played very, very well today," Murray said. "Every time I lose a match, I get asked, 'What did you do wrong?' Sometimes the guy plays well. He played extremely well today. He dictated a lot of the points, he went for his shots, he served very well."
Murray had the advantage of a shorter third-round match than Berdych, who was taken to three sets by Kei Nishikori while Murray's contest against Julien Benneteau ended late in the first set when the Frenchman sprained his ankle and fractured his elbow.
But Murray used whatever extra freshness he may have had in a largely defensive capacity, as Berdych's superiority ground him down. In the eighth game of the first set, the Czech forced the first of 16 break-point chances in the match.
Murray saved it with a drop shot, then another when Berdych patted a forehand into the net, and one more when Berdych's stretched to return Murray's high serve and flicked a backhand. Murray held for 4-4.
Then Berdych had him under pressure again at 15-40 in the 12th game. Murray escaped with a passing shot and a clever lob over Berdych's shoulder that led to a hurried smash going out.
Murray raced to a 6-2 lead in the tiebreak, missing two chances to clinch the set before forcing Berdych into an unforced error.
The Czech finally took control of the match when he broke Murray -- on the ninth attempt -- and held for a 3-1 lead. He took the second set with another big forehand.
He broke Murray at the start of the decider, but the Brit was given a reprieve when Berdych made three unforced errors to gift him a break back.
Murray failed to seize his chance and lost his next service game with a missed smash, prompting him to slam his racket into the ground.
Berdych then held for 3-1 and never looked back, securing his fourth win in six career matches against Murray, having also beaten him in the fourth round of the French Open two years ago.
"It's frustrating when you're losing a match and the guy is making it difficult for you to create chances," Murray said. "When the guy you're playing against is taking big risks, getting big rewards, not making too many errors, it's just tough."
Murray still took positives out of his first clay-court tournament of the season.
"It's quite a slow process. I'm never going to play my best (on clay) straightaway," he said. "It was a decent start. The level of today's match was pretty good. I just made a few more mistakes than normal."
Later Friday, seven-time defending champion Rafael Nadal was scheduled to play Stanislas Wawrinka and fourth-seeded Jo-Wilfried Tsonga was to face Gilles Simon in an all-French match.