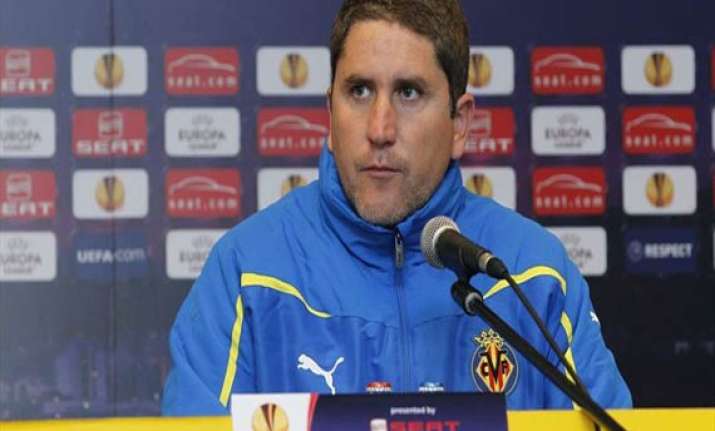 Villarreal, Spain , Dec 22 : Villarreal fired coach Juan Carlos Garrido following the struggling Spanish club's embarrassing Copa del Rey loss to a third-tier team on Wednesday.

Villarreal exited the fourth round of the domestic cup competition after Wednesday's 2-0 home defeat to Mirandes, the final straw for Garrido after Villarreal was also eliminated from the Champions League after losing all six of its group games.

Garrido was quoted as saying he expected president Fernando Roig to make the change following the result at El Madrigal stadium.

"The Villarreal president came to me and informed me of my termination, and I extended my hand and told him I understood," Garrido said, according to Spanish media.

Villarreal, which is 17th in the league and out of the relegation zone on goal difference, said Garrido's successor had yet to be decided.

A rash of injuries, including to international strikers Giuseppe Rossi and Nilmar Garrido, have hurt Villarreal's season, while the exit of Spain international Santi Cazorla to Malaga also hurt the team.

Roig was at first ready to extend Garrido some slack but Wednesday's result saw his the former Villarreal B coach's time in charge of the first team end after he replaced Ernesto Valverde 20 games into the 2009-10 season.

The 42-year-old Garrido, who leaves after completing nearly two full seasons with the club and his first topflight coaching job, guided the "Yellow Submarine" to seventh and fourth-place finishes over the past two seasons.

"I understand the decision because the team has been a disaster and a disgrace and it's unacceptable to go out this way," Garrido said. "The coach is always the responsible one. Since the start it's been a difficult season and we paid for that over the course of the campaign."