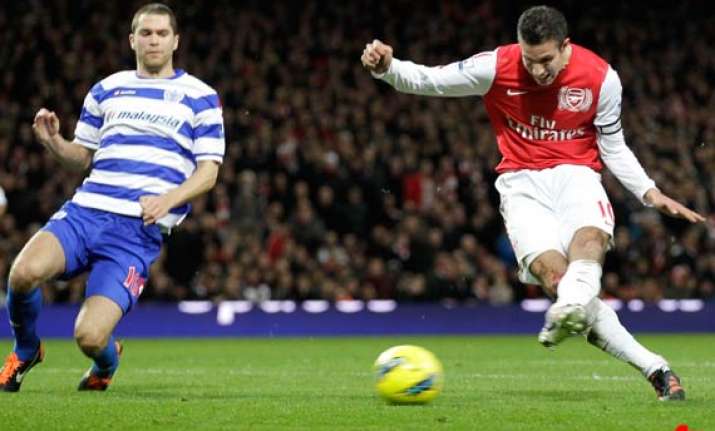 London, Jan 1: Robin van Persie lifted Arsenal back into the Premier League's top four on Saturday by clinching a 1-0 victory over Queens Park Rangers.

Having squandered several chances to score in the first half, the Netherlands striker finally broke the deadlock on the hour at the Emirates Stadium.

He darted through the QPR defense to meet Andrei Arshavin's through ball before slotting past QPR goalkeeper Radek Cerny.

The victory dislodged Chelsea from fourth place after Arsenal's west London rival lost 3-1 at home to Aston Villa.

How Arsenal failed to score in the first half will have bewildered more than 60,000 inside Emirates Stadium.

The lack of ruthlessness provided a reminder of why manager Arsene Wenger has turned to signing former striker Thierry Henry on a two-month loan from the New York Red Bulls.

The striker, who scored a club-record 226 goals in eight years at Arsenal between 1999-2007, was in the ground to assess the players who he will soon be rejoining.

Van Persie's goal was his 35th league goal of 2011, leaving him just one shy of Alan Shearer's record haul for Blackburn in 1995.

"He can kick on next year because he is the right age to perform," Wenger said. "Touch wood that he can repeat the same number of games and, if he does, then nothing is impossible. I don't know why tonight at midnight it should suddenly change."

There was one blow for Arsenal on Saturday, with defender Thomas Vermaelen replaced by Francis Coquelin through injury.

"He had a calf strain so maybe at midnight I will try to find a left back," Wenger said, referring to the opening of the January transfer window. "It is serious enough not to play on Monday (at Fulham) or against Leeds (the following Monday).

"We have three left backs out but Coquelin came out in this position and did quite well, but of course he is a central midfielder."