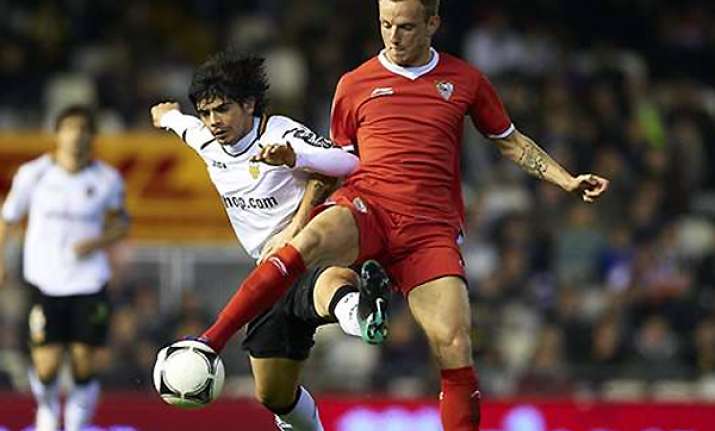 Barcelona, Jan 6: Jonas gave Valencia a slim advantage over Sevilla by scoring in the first half to secure a 1-0 win Thursday in the opening leg of a round-of-16 matchup in the Copa del Rey.

Valencia had 75 percent of possession in the first half but only created two shots on goal as Sevilla held firm and looked to counterattack.

Spain striker Alvaro Negredo almost opened the scoring with a volley that bounced wide in Sevilla's first threat in the 10th.

But Valencia took the initiative at Mestalla stadium with winger Jordi Alba coming close before Jonas put the hosts ahead for good in the 33rd. The Brazil forward received a pass, cut back to his right foot, and curled a shot around goalkeeper Andres Palop from the left side of the area.

Valencia appeared close to a second goal after halftime, but after Palop made a good save to smother Alba's header in the 55th, Sevilla went looking for the equalizer.

Winger Jesus Navas began to arrive down the right flank, and Manu del Moral sent his cross off the woodwork with a header in the 63rd.

Even so, Sevilla failed to convert its scoring chances, showing why it had agreed to bring back forward Jose Antonio Reyes from Atletico Madrid earlier on Thursday.

"It's a pity we are leaving without having scored because in the second half we played very well," Sevilla coach Marcelino Garcia said. "Valencia is now the favorite because it has the advantage, but we are convinced that we can turn the series around."

Valencia and Sevilla are the last Spanish teams to have won domestic titles other than Barcelona and Real Madrid. Valencia won the Copa in 2008 and Sevilla lifted the trophy in 2007 and 2010.

Earlier Thursday, a 10-man Espanyol became the latest topflight team to lose to a lower-division opponent this week when second-tier Cordoba scored two late goals to stage a 2-1 comeback win.

Sergio Garcia had given Espanyol the lead with a goal in the 38th minute before goalkeeper Kiko Casilla was sent off with a red card for fouling Cordoba striker Jose Diaz in the area.

Substitute goalkeeper Cristian Alvarez blocked Diaz's resulting penalty in the 54th, but he could do little to stop Borja Garcia's long shot in the 81st after it took a friendly deflection off a defender.

Cordoba pressed for the winner, which came four minutes later when Carlos Caballero volleyed in a cross.

"Everything went downhill after the expulsion," said Espanyol coach Mauricio Pochettino. "We had the game under control, but that is what happens in these games with the magic of the Copa."

On Tuesday, third-division Mirandes beat Racing Santander 2-0, second-division Alcorcon downed Levante 2-1, and third-tier Albacete drew 0-0 with Athletic Bilbao.

Cordoba eliminated first-division Real Betis in the previous round that also saw Atletico Madrid and Villarreal knocked out by third-division teams, defeats which led to coaching changes at both clubs.

Also this week, defending champion Real Madrid rallied to edge Malaga 3-2, while Barcelona routed Osasuna 4-0. If the two powerhouses win their series, they will meet in the quarterfinals in a rematch of last year's final.

Real Sociedad beat Mallorca 2-0 on Wednesday.

The second legs will be played next week.