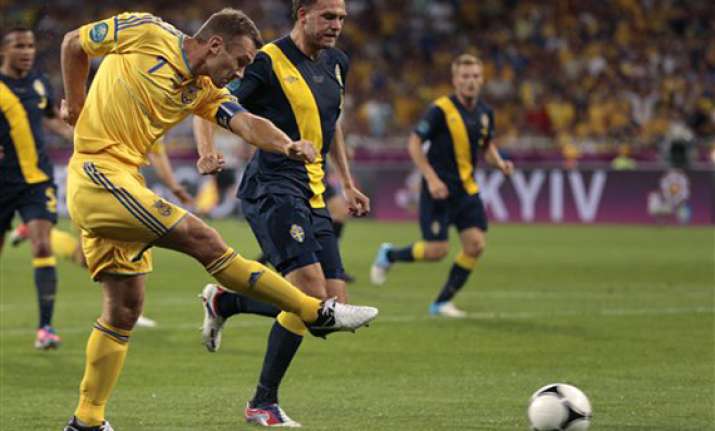 Kiev (Ukraine), Jun 12:
Andriy Shevchenko is determined to turn the European Championship into a farewell performance to remember, and so far he's putting on quite a show.
Shevchenko one-upped Zlatan Ibrahimovic on Monday in a battle of past and present star strikers, scoring two great headers to give co-host Ukraine a 2-1 win over Sweden in their opening match at Euro 2012.
"I feel that I am 10 years younger today," the 35-year-old Shevchenko said. "I think that it's a great day for Ukraine. This is a historical win."
From having been considered over the hill, Shevchenko and his Ukraine team are now king of the hill in Group D — temporarily at least.
Ukraine entered the tournament as a massive underdog to make it to the second round, but looks to have a real chance of extending its stay past the group stage as France and England drew 1-1 in their game earlier Monday.
The party in Kiev, at least, is likely to go on for at least another week.
The Olympic Stadium rang out with chants of "Sheva, Sheva" for the last part of the game, and those shouts are likely to reverberate throughout the country for a long time.
After Ibrahimovic had given Sweden the lead in the 52nd minute, Shevchenko responded by heading in the equalizer just three minutes later and then added the winner in the 62nd.
"I had a dream that he would score twice," Ukraine coach Oleg Blokhin said. "But Andriy didn't believe it."
Showing flashes of the scorer's instinct that once made him one of the world's top strikers, Shevchenko beat Olof Mellberg to a cross for his first goal and then got away from Ibrahimovic to meet a corner and head the ball inside the near post for the second.
These days it's Ibrahimovic who is considered a world-class forward, but AC Milan's current star came up short against its former.
"I feel sad. We had more chances to score," Ibrahimovic said. "It wasn't supposed to happen. The situation is as it is. There's still two games left and we still have the two games to get a result. We need to play a better game than we did today."
Ibrahimovic did provide the focal point of the Swedish attack and shaved the post with a header in the first half before putting his team ahead.
Kim Kallstrom collected a long cross at the left side of the area and picked up Ibrahimovic in front of the net, and the Sweden striker calmly slotted the ball past Andriy Pyatov and into the net.
But Sweden seemed to relax after that and Shevchenko took advantage immediately. The second goal was symbolic for the game as a whole, as Ibrahimovic couldn't keep up with Shevchenko and the veteran managed to somehow sneak the ball past defender Mikael Lustig at the near post.
The goal sent the stadium into an uproar and had Blokhin jumping up and down the sideline and waving his hand frenetically.
"The second goal, we trained this combination," Shevchenko said. "The ball went through a small hole, there was no other opportunity to score. But this is football, if you have the chances, you should score. That makes the difference."
Sweden pressed hard for an equalizer over the last 20 minutes, but Ibrahimovic hard swerving shot was saved by Andriy Pyatov, while substitute Johan Elmander and Mellberg both wasted good chances by shooting high.
"We should've scored one goal from those three chances," Sweden coach Erik Hamren said. "But we didn't reach the level we're supposed to today."
While Shevchenko dazzled, Sweden was largely disappointing.
Hamren opted for an unabashedly attack-minded lineup, clearly going all-out for a victory against what was supposed to be the weakest team in the group.
However, the Swedes failed to impose their will on the game in the first half as Ukraine came out looking the more ambitious.
"I thought we were a bit cowardly in the first half," Hamren said. "I'll have to take responsibility for that as a coach, that we didn't show enough courage."
Ibrahimovic had Sweden's best chance in the first half, but his header in the 39th went off the outside of the post.
"Today it was off the post and out, the next game it will be off the post and in," Ibrahimovic said. "We have three games to play here, it's not just one game."
Blokhin, meanwhile, decided against resting Shevchenko ahead of the games against France and England, even though the forward has said he doesn't think he can play three games in nine days.
Turns out that was a pretty good decision.
Shevchenko was given a well-deserved standing ovation as was taken off in the 81st, while Ibrahimovic strode off the field immediately after the final whistle with his head down.
"He was really good in the box," Hamren said of Shevchenko. "Two really good scores. That made the result. Good for him, bad for us."
Lineups:
Ukraine: Andriy Pyatov, Oleh Gusev, Taras Mykhalyk, Yevhen Khacheridi, Yevhen Selin, Andriy Yarmolenko, Anatoliy Tymoschuk, Yevhen Konoplianka, Serhiy Nazarenko, Andriy Voronin (Ruslan Rotan, 85), Andriy Shevchenko (Artem Milevskiy, 81).
Sweden: Andreas Isaksson, Mikael Lustig, Olof Mellberg, Andreas Granqvist, Martin Olsson, Rasmus Elm, Kim Kallstrom, Sebastian Larsson (Christian Wilhelmsson, 68), Zlatan Ibrahimovic, Ola Toivonen (Anders Svensson, 62), Markus Rosenberg (Johan Elmander, 71).