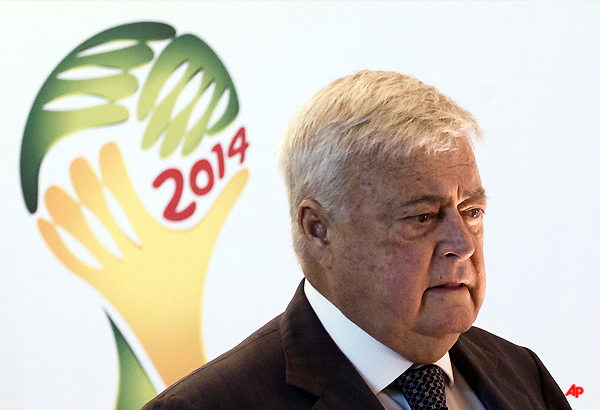 Sao Paulo, Mar 13: Ricardo Teixeira stepped down from his posts as head of the Brazilian football federation and the 2014 World Cup organizing committee on Monday, ending a contentious 23-year stint in charge of Brazilian football.

The announcement ends an era that mixed success on and off the field for Brazil with allegations of irregularities and corruption involving Teixeira, including that he took kickbacks from former FIFA marketing partner ISL in the 1990s.

The 64-year-old Teixeira, a member of FIFA's executive committee, took a leave of absence for medical reasons last week. But he said in a letter of resignation released Monday that he is leaving permanently to look after his health.

The letter was read by new federation and organizing committee president, former Sao Paulo Governor Jose Maria Marin, who earlier this year was caught on television camera putting a winner's medal in his pocket while presenting them to players in an under-18 tournament.

"I leave the presidency of the CBF (national federation) permanently with the sense of mission accomplished," Teixeira wrote in the letter. "It's not easy to preside passion. Football in our country is associated with two things: talent and disorganization. When we win, talent is praised. When we lose, it's about disorganization. I did what was within my reach, sacrificing my health. I was criticized in the losses and undervalued in the victories."

Teixeira's term had been expected to end in 2015.

The medical reasons were not officially disclosed, but last year he took leave after being hospitalized because of diverticulitis, an inflammation of the inner lining of the intestine.

Former Brazil star Romario, now a congressman, had some harsh words for Teixeira after his resignation.

"Today we can celebrate," Romario posted on his Twitter and Facebook pages. "We exterminated a cancer from Brazilian football. Finally, Ricardo Teixeira resigned."

The 79-year-old Marin made headlines when he was filmed pocketing a winner's medal at the Copa Sao Paulo under-18 tournament. He later said the medal was given to him, and wasn't accused of any wrongdoing by organizers.

"I hope the new president, the one who stole the medal from the Corinthians player, won't repeat this act while in the federation," Romario said.

Marin said nothing would immediately change at the federation or the World Cup organizing committee with him in command.

"It's not a new administration," he said. "It's a new president, but the stupendous work that was being done by Ricardo Teixeira will continue. It's not a new project."

Brazil Sports Minister Aldo Rebelo said the change won't interfere in the country's preparations for the 2014 World Cup.

"We will continue working in harmony in the common tasks needed to be completed for the success of the event," Rebelo said in a statement.

Teixeira has led the CBF since 1989, being elected four times and revamping the organization after it struggled financially. Under his command, Brazil won the 1994 and 2002 World Cups and the federation became one of the richest in the world.

"By bringing the 2014 World Cup, Brazil earned the privilege to host the biggest and most watched event in the world, becoming a player internationally, boosting its economy and bringing pride to the Brazilian people," Teixeira said in the letter. "We substantially increased the profits of Brazilian football, developed its marketing and, mainly, we won."

His resignation comes a few months after his former father-in-law, Joao Havelange, resigned from the International Olympic Committee while facing a possible suspension for allegedly also taking the ISL kickbacks when he was FIFA president.

There was increased pressure for Teixeira's resignation last month after the Folha de S. Paulo newspaper, Brazil's largest, reported that prosecutors had allegedly found evidence linking him to a company that organized a friendly between Brazil and Portugal in 2008 in Brasilia. The company is being investigated for irregularities in organizing the match.

Teixeira was never convicted of any wrongdoing, but he was twice investigated by Brazil's Congress, including over a contract signed with Nike.

He was also accused of unethical behavior by a former chairman of England's Football Association, David Triesman, who said during a British parliamentary inquiry that Teixeira and other FIFA executive committee members engaged in improper conduct during bidding for the 2018 World Cup. FIFA cleared the Brazilian.

After Brazil won the 1994 World Cup, Teixeira found himself amid a controversy when players and officials tried to re-enter Brazil without paying proper taxes on gifts and other imported goods bought by them in the United States. Before the 2006 World Cup, prosecutors accused him and a tourism agency of selling tickets for the event without following legal procedures.

"There are no series of unfair attacks that can take away the satisfaction of seeing the happiness in the face of Brazilians after winning more than 100 titles, including two World Cups, five Copa Americas and three Confederations Cups," Teixeira said.

FIFA wouldn't immediately comment because it hadn't been officially informed by the Brazilian federation or local organizing committee.