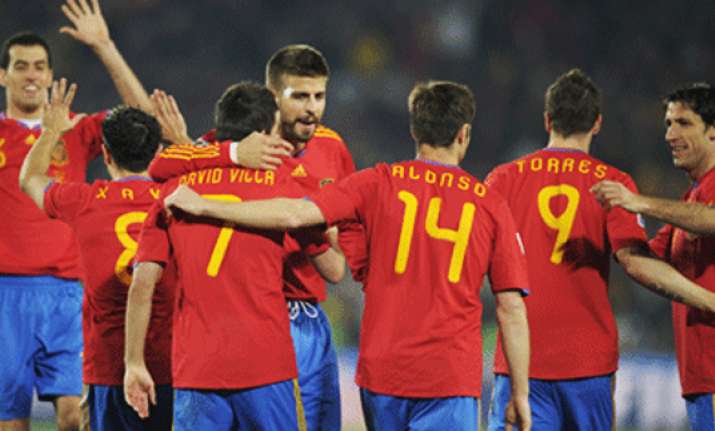 Zurich, Nov 23: World and European champion Spain stayed atop FIFA's monthly world rankings on Wednesday, despite losing a friendly to England which climbed two places to No. 5.

The Netherlands remained second but third-placed Germany narrowed the gap after winning 3-0 in a friendly between the sides. South American champion Uruguay closed on the top three, beating Chile in 2014 World Cup qualifying and No. 9 Italy in a friendly to remain unbeaten in 13 matches.

England was helped by its friendly wins against Spain and No. 18 Sweden to climb above sixth-placed Brazil, which gained fewer ranking points beating Egypt and Gabon. Portugal and Croatia won 2012 European Championship playoffs and rose to seventh and eighth respectively. Ivory Coast led African teams at No. 16 and 19th-placed Japan was the best Asian team.

Mexico rose two to No. 20 and headed CONCACAF members. Oceania's best, New Zealand, did not play last month and dropped 14 places to No. 119. It will begin World Cup qualification next June.

The biggest risers were the Czech Republic, up 14 places to No. 33, and Ecuador, which climbed 10 to No. 42.

Three teams reached their highest position since the rankings started in 1993: Venezuela (No. 39), Cape Verde (No. 57) and Antigua and Barbuda (No. 83). Qatar, the 2022 World Cup host, dropped three places to No. 95 despite being unbeaten in three matches, including two 2014 qualifiers. The rankings weigh all international matches over a rolling four-year cycle.

FIFA took account of 131 matches in the past month, including 72 World Cup qualifiers.