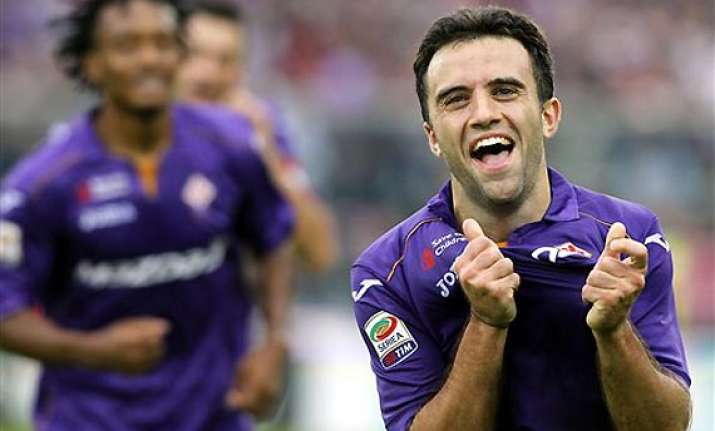 Rome: Giuseppe Rossi scored a hat trick on Sunday as Fiorentina came back from two goals down to stun two-time defending champion and fierce rival Juventus 4-2 in Serie A.
Carlos Tevez and Paul Pogba gave Juventus a 2-0 halftime lead but Rossi struck back with goals in the 65th, 76th and 80th and Spanish forward Joaquin added his first Serie A strike in the 78th.   
Rossi has eight goals through eight rounds. The United States-born forward was recently called back into Italy's national team after two years of injuries and three surgeries.   
"The goals were great but we really reacted well as a squad in the second half," Rossi said.
"We showed a lot of courage and a lot of heart. We can play with anyone."   
After its first loss, Juventus remained tied with Napoli five points behind Roma, which beat Napoli 2-0 Friday to extend its winning start to eight matches. Fiorentina is fifth, nine points back. 
Promoted Hellas Verona is fourth, one point ahead of Fiorentina, after beating Parma 3-2 with a goal from Fabrizio Cacciatore and two penalties from Jorginho -- one earned by former Italy forward Luca Toni.   
Fiorentina had not beaten Juventus at home since December, 1998, when Gabriel Batistuta was the club's key scorer.   
Juventus doesn't have much time to regroup, with a match at Real Madrid in the Champions League on Wednesday.   
"The match was closed," Juventus coach Antonio Conte said. "Then something unthinkable happened. We lost a match that we were dominating. But that's football. ... We need to learn something from this."   
In other matches, it was: Atalanta 2, Lazio 1; Genoa 2, Chievo Verona 1; Livorno 1, Sampdoria 2; Sassuolo 2, Bologna 1.   
Later, Inter Milan visits Torino in its first match since an announced takeover of the club by a group of Indonesians.   
In Florence, it was all Juventus until Mati Fernandez was fouled by Kwadwo Asamoah to set up a penalty for Rossi in the 66th.   
Ten minutes later, Rossi appeared to surprise Gianluigi Buffon with a shot from beyond the area that the Juventus and Italy goalkeeper should have stopped.   
Joaquin was then left all alone inside the area to make it 3-2 and Rossi rounded out a career performance by finishing off a counterattack with Juan Cuadrado.   
In the 85th, Rossi exited to a well-earned standing ovation. 
It was quite a turnaround from the first half.   
Juventus playmaker Andrea Pirlo hit the crossbar in the 14th and the visitors took control when Tevez was fouled by Gonzalo Rodriguez at the edge of the area to set up a penalty for the Argentina forward in the 37th   
Pogba doubled Juve's lead three minutes later by volleying in after Cuadrado's clearing attempt went straight up into the air.   
Earlier in Bergamo, midfielder Luca Cigarini scored one goal and set up another as Atalanta won its third straight.   
Cigarini put the hosts ahead in the 41st with a long, low shot then provided the through ball for German Denis' winner in the 84th.   
Lazio's 20-year-old Colombian forward Brayan Perea had equalized in the 53rd with his first Italian league goal.   
Denis dedicated his goal to his mother with a specially prepared T-shirt, since it was Mother's Day in his home country of Argentina.