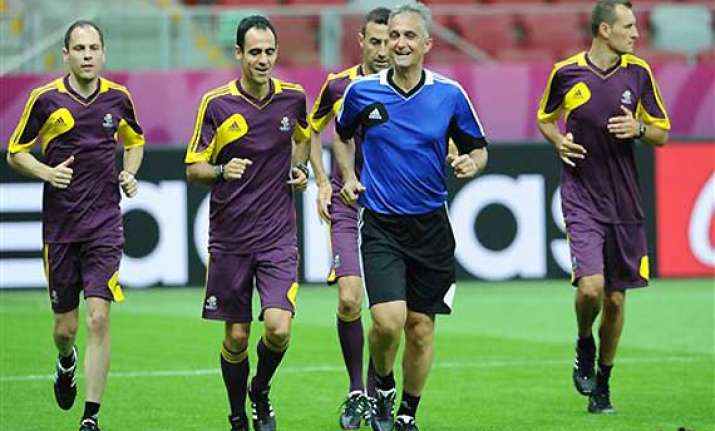 Warsaw, Jun 7: After UEFA put referees on the spot to help police racism in European Championship stadiums, the 47-nation Council of Europe on Thursday praised co-hosts Poland and Ukraine for their efforts to combat discrimination.
Referees have been urged by UEFA President Michel Platini to halt and even abandon matches if players are abused by fans amid concerns about racially motivated incidents, especially at matches played in Ukraine.
On Thursday, UEFA appointed top Italian referee Nicola Rizzoli to handle the high-profile England-France match in the industrial city of Donetsk in eastern Ukraine on Monday.
UEFA has briefed its 12 tournament referees how to respond to insulting chants and gestures from the grandstands. UEFA referee advisers are completing visits this week to all 16 teams' training camps to remind players of their responsibilities -- including to remain on the pitch rather than walk off in protest.
The race issue was reignited by a British television program which last week aired images of racist and violent behavior by fans at recent club matches in Poland and Ukraine.
Former England defender Sol Campbell, who is black, featured in the "Stadiums of Hate" documentary asking fans of non-white ethnic origin to boycott Euro 2012.
On the eve of Friday's tournament kick off in Warsaw, leading Council of Europe official Snezana Samardzic-Markovic urged black and Asian fans to travel to matches.
"The Euro and any kind of sport competition exist there in order for people to enjoy," said Samardzic-Markovic, who heads the group's democracy unit. "So I don't want to discourage people to go and enjoy and love sport."
The former Serbia sports minister said Poland and Ukraine had asked for help from the Council of Europe and UEFA to shape Euro 2012 security plans.
"I would not doubt any will of the governments to deal with it," she said, adding that "they really want to protect spectators, all kinds of spectators and especially tourists."
The BBC's program, which showed Ukrainian men attacking Asian fans supporting their own team, presented "an unfair image" of the two countries, Samardzic-Markovic said.
Still, she acknowledged: "Unfortunately, racism and violence exist all over our continent. Sport can be used as an arena for some people to try to promote their non-sport interest."
To prevent discrimination in stadiums, UEFA has invited the Football Against Racism in Europe network, which it helps fund, to create a team of 31 experts who will monitor chants, flags and symbols.
FARE launches its monitoring program Friday at the Polish Foreign Ministry in Warsaw. It said the event will be attended by Netherlands great Ruud Gullit, who is black, and Ukraine Football Association president, Hrihoriy Surkis, who is a member of UEFA's executive committee.
The fans' group views the England-France match as a potential problem. Each team will line up with several black players and unsold tickets are still available to local residents after both countries returned parts of their allocation.
Players' union leader Theo van Seggelen later wrote on Twitter that his members "must not accept racist behavior of `fans' during the training & matches."
"Who will be the 1st referee who has the guts to stop a match at the (European Championship) because of racism?" Van Seggelen, the secretary general of FIFPro, asked.
UEFA also selected Cuneyt Cakir of Turkey to referee Ukraine's match against Sweden in Kiev on Monday.
On Sunday in Poland, Hungarian referee Viktor Kassai will handle title holder Spain's opening match against Italy in Gdansk, and Bjorn Kuipers of the Netherlands will referee Croatia-Ireland in Poznan.