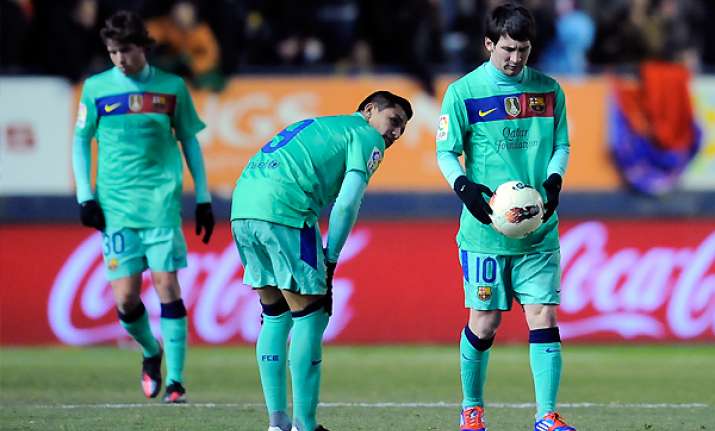 Madrid, Feb 12: Subzero temperatures and poor defending cost Barcelona as the defending Spanish champion's league hopes took a big hit by losing 3-2 at Osasuna on Saturday.

Barcelona, already trailing leader Real Madrid by seven points, trailed 2-0 after 22 minutes as Osasuna striker Dejan Lekic took advantage of poor defending to score both.

Barcelona hadn't recovered from a two-goal halftime deficit in 50 years, but Alexis Sanchez provided hope with a 51st-minute strike.

Raul Garcia re-established Osasuna's two-goal advantage five minutes later, with Barcelona's rally ending at Cristian Tello's 73rd-minute strike.

Barcelona looked to have equalized through Sanchez's second goal in the 82nd, but the Chile striker was ruled offside despite TV replays indicating the contrary.

Madrid can stretch its lead over Barcelona to 10 points with a home victory over Levante on Sunday, with the Spanish leader having lost only once in its last 25 games discounting its recent matchups with Barcelona.

"Of course this makes (the league) more difficult, but these things happen," Barcelona coach Pep Guardiola said of an opponent his team had beaten five straight times by a combined 19-0 score going in. "The reality is we trail by a notable amount and on Sunday I imagine that will grow, but we have to keep going until the end of the season."

The Catalan coach preferred not to risk Andres Iniesta, Xavi Hernandez or Cesc Fabregas on the frozen field with a Champions League last 16 match at Bayer Leverkusen on Tuesday. Instead, Thiago Alcantara and Sergio Roberto started in midfield, although it was in defense where Barcelona struggled.

Garcia got around Carles Puyol to tap into the path of Lekic, the Serbian striker bursting past Gerard Pique into the area to slot the opener past goalkeeper Victor Valdes after just five minutes.

Barcelona's defense was again slow to react on the second as Garcia rolled a wide ball through Puyol's legs to the right side for Alvaro Cejudo, whose low cross skipped through the area to find Lekic for the second.

The freezing temperatures hardened the Reyno de Navarra turf and disrupted Barcelona's game as players slipped and struggled to find rhythm.

Although Lionel Messi had a number of first-half chances saved by Osasuna 'keeper Andres Fernandez, it wasn't until the entrance of B team players Isaac Cuenca and Tello for Pedro Rodriguez and Puyol, respectively, after the break that the Catalan side improved. Barcelona's only recovery from a two-goal deficit at halftime was in a 3-2 win at Real Betis in 1962.

Cuenca showed superb class throughout as the young winger skipped a pass through a handful of players inside the area to find Sanchez at the far post to halve the deficit.

But Osasuna responded as Osasuna standout Garcia raced past Pique to reach Juan Francisco Martinez's pass at the near post to redirect past Valdes for what proved the eventual winner. Barcelona conceded three league goals in a game for the first time in nearly three years, a run of 100 games.

Knowing Madrid could open up a double-digit lead with a victory, Barcelona kept attacking with Fabregas eventually coming on to thread a pass to Tello, who cut back and waited for his marker to slide past before firing a rising shot past Fernandez for his fourth goal in seven appearances.

Sanchez appeared onside to beat Fernandez but after much discussion, the goal was ruled offside. Guardiola strolled over to a nearby TV crew to watch the replay, smiling to himself before whispering into the linesman's ear about the call.

"Osasuna adapted to the playing conditions much better and they played a much better first half than us," Guardiola said.

Also, Racing Santander goalkeeper Antonio Rodriguez's great saves ensured Racing Santander escaped with a 0-0 draw against Atletico Madrid while Real Betis scored a stoppage time winner with Athletic Bilbao playing with 10 men to win 2-1.

Javi Martinez canceled out Ruben Castro's 10th-minute opener with his goal in the 22nd, but Portuguese fullback Nelson latched on to a loose ball outside the area to fire a swerving shot out of the grasp of goalie Gorka Iraizoz for victory. Bilbao played with 10 over the final 25 minutes after Martinez was sent off for a second booking.

In other 22nd round of games, it's: Espanyol vs. Zaragoza; Rayo Vallecano vs. Getafe; Malaga vs. Mallorca; Valencia vs. Sporting Gijon; Villarreal vs. Granada; and Real Sociedad vs. Sevilla.