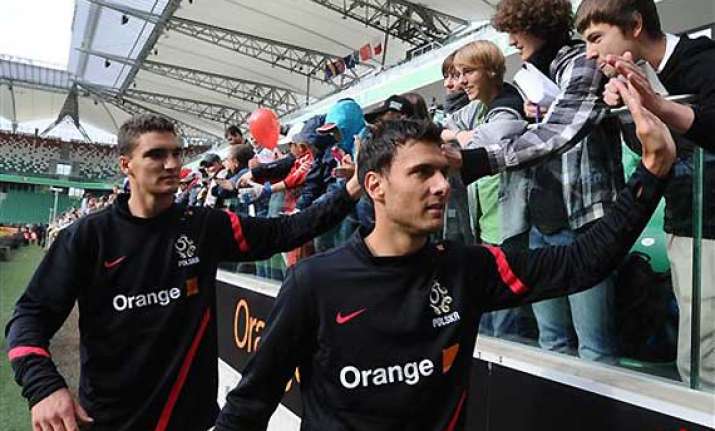 Warsaw (Poland), June 5: Poland midfielder Ludovic Obraniak defended his place in the national team at the European Championship, saying Tuesday he is proud to play for the country despite being born in France.
The issue erupted Monday after comments by Obraniak were published in a French magazine that quoted the 27-year-old as saying he didn't feel accepted or integrated with the national team.
Obraniak, who normally speaks French to the Polish media, put the issue to rest Tuesday, making a brief statement to journalists in Polish: "We are three days ahead of the Euro, and that's very important. I'm here for two years and today I feel like a Pole. I like Poland. I like Poles."
"There's a good atmosphere in the team, and we are happy," he said.
The message -- and effort to speak Polish -- appeared to hit home, winning a burst of applause from Polish journalists in the crowded team media center.
Obraniak, whose grandfather was born in Poland, received Polish citizenship in 2009 and quickly became a key player for the national team, scoring five goals in 23 matches.
His national team career began under Leo Beenhakker, who used Obraniak on the left flank. Poland's current coach, Franciszek Smuda, has tended to use him more in the center of the pitch between the midfield and star striker Robert Lewandowski, in an attacking support role.
Obraniak acknowledged that the issue of foreign-born players has struck a chord among some in Poland, but noted that it's nothing new in the football world.
"Today we live in an open world. It's two years that I've been here. It's not like I just arrived a few months ago to play in the Euro," Obraniak said later in French.
"Today I feel, even if I'm not totally Polish in a cultural sense -- I don't speak the language, I don't live here -- so it's true that culturally I'm not totally Polish, but when I'm here I feel good, and in the team I'm totally at ease."
Poland's other French-born player, Damien Perquis, also insisted there was no split with other players because of his birthplace. Perquis, whose grandmother is Polish and will be in the stands for the tournament opener, received his Polish citizenship in September 2011.
"I was born in France, but during my life my grandmother gave me some Polish blood, it's true, and my heart is Polish too," he said. "I don't know. Some people make problems generally about this. Sure, I don't speak (the language), but I'm a Polish guy too."
Both players are expected to start for Poland in the tournament's opening match Friday against Greece in Warsaw.
Obraniak, in particular, is looking forward to the matchup. He made his Poland debut in 2009 against the Greeks, scoring two goals in a 2-0 win.
"I hope the score will be the same as my first game," he said. "We are above all interested in a good result in our first match because it will put us on the right path and give us a lot of confidence."