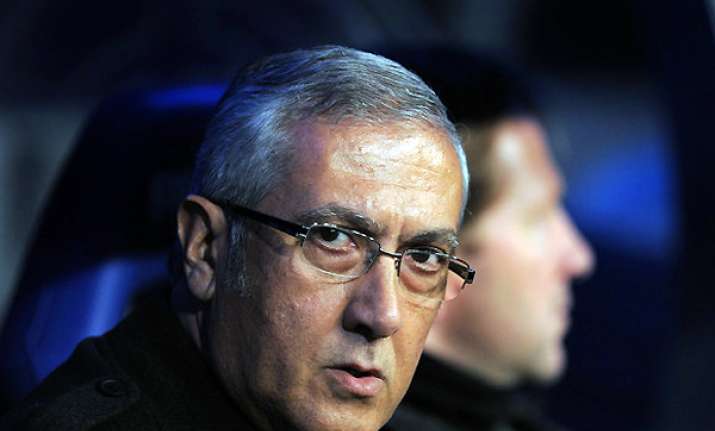 Madrid, Dec 15: Atletico Madrid coach Gregorio Manzano has launched a defense of his six-month tenure at the club after dismal away form and a shock cup defeat left his job under threat.

Manzano's position is under pressure after his team garnered just one point from seven away matches in the Spanish league and lost 2-1 at third-tier Albacete in the Copa del Rey last week.

"Don't worry about whether I might or might not leave the club," a visibly irritated Manzano told a news conference Wednesday. "(I spend) zero energy worrying about the immediate future."

Despite its domestic form, Atletico will qualify top of its Europa League group if it beats French club Rennes at home on Thursday. The club has qualified for the next round regardless of the result.

Atletico can also overturn the Albacete defeat with a home win in the return leg next week and sits in 10th position in the Spanish league, 10 points adrift of the Champions League places and three away from the European qualification spots.

Manzano said those facts proved the club's plight had been exaggerated despite the poor away form in Spain.

"I believe in this project and in this squad," he said. "They are the same players that are winning at home, so why can't they win away? We have to change that dynamic, but please, let's also say that we are doing a great job in all competitions."

After Sunday's 4-2 league loss at Espanyol, forward Adrian acknowledged the team was disappointed with its current form.

"It's obvious something has gone wrong," Adrian said. "The game didn't go as we wanted, and the players are the first to be worried. The problem is away from home in the league."

Atletico fell three goals behind in the first half hour against Espanyol, with Spanish media reporting that the club's board had met Monday to discuss Manzano's future.

His position has also been undermined by reports of a fallout with Jose Antonio Reyes after an exchange when the former Arsenal striker was substituted during a match earlier in the season.

Manzano said there is no "personal situation" between the two, but left Reyes out of the squad for the Espanyol match to allow him to continue negotiations over a possible move to Turkey with Galatasaray.

Reyes remains at the club for now — and so does Manzano.

"I'm not thinking about a block or a rope or knives or any of those other football topics we are all so used to," Manzano said. "We are not going to a funeral tomorrow but to celebrate first spot (in the Europa League) in a group that looked complicated at the beginning."