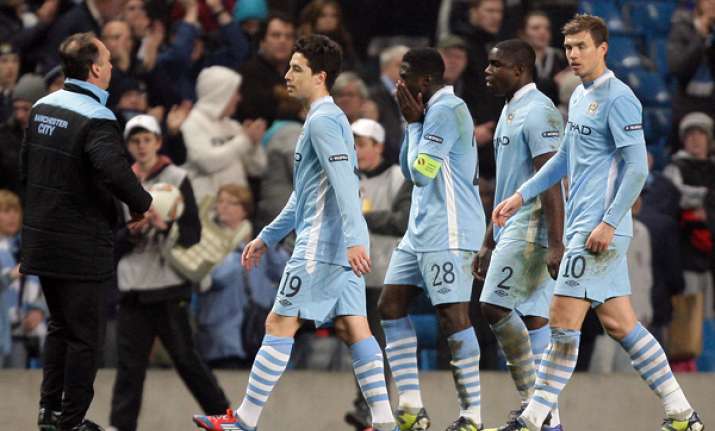 Manchester (England), Mar 16: Manchester City crashed out of the Europa League on away goals despite rallying to a 3-2 home win against Sporting Lisbon on Thursday.

Matias Fernandez curled in a 33rd-minute free kick and Ricky van Wolfswinkel scored a second in the 40th to consolidate the Portuguese club's 1-0 win in the first leg.

Needing four goals to progress, City almost completed an astonishing comeback as Sergio Aguero scored in the 60th and 82nd, sandwiching Mario Balotelli's 75th-minute penalty, to level the aggregate score at 3-3.

City left just too much to do, however, and Sporting earned its spot in the last eight on away goals.

"I'm proud of the performance, (but) I'm disappointed for the two games because I think over the two games we didn't deserve to go through," City manager Roberto Mancini said.

The result meant England was without any teams in the quarterfinals of Europe's second-tier tournament, following Manchester United's elimination at Athletic Bilbao earlier Thursday.

"I'm very pleased to go through," said Sporting coach Ricardo Sa Pinto. "It gives a good image of Sporting to knock out Manchester City, which is one of the best teams in the world."

Mancini took responsibility for the defeat, acknowledging that he may have underestimated Sporting.

"The manager is always the person who prepares the game, probably I did some mistakes for these two games," he said. "Probably I thought that after Porto (in the previous round) playing Sporting was easy, but in football it's never easy."

After a disjointed opening 20 minutes at Etihad Stadium, City's frustration grew as the half progressed and the home fans were stunned into silence when Fernandez whipped a free kick into the top left corner of the goal. Fernandez's shot was sweetly struck, but City goalkeeper Joe Hart was partly to blame after creeping too far behind his wall in an attempt to anticipate the direction of the kick.

Mancini was also angry with Balotelli for conceding the needless free kick. "I was disappointed with him because the foul was so-so," he said.

Things soon got worse for Mancini's side as Marat Izmailov broke into the box and crossed low for Van Wolfswinkel to finish from point-blank range.

Thanks to Aguero and Balotelli, City needed one more goal to progress. Hart almost produced it, joining the attack and heading just wide with the last touch in stoppage time.

"I can't believe it, I thought it was in," Hart said. "We've cost ourselves with the first half, but if we keep rolling now we'll be all right. We're a good team and we've got nothing to worry about."