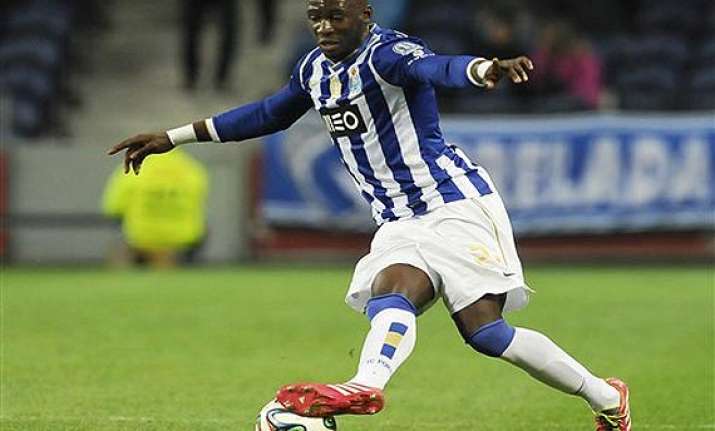 MANCHESTER, England: France defender Eliaquim Mangala became Manchester City's most expensive signing of the off-season when he joined the English champions from FC Porto on Monday for a reported fee of 32 million pounds ($54 million).
Strengthening City's defense has been one of the priorities of manager Manuel Pellegrini, with the 23-year-old Mangala set to compete with Argentina international Martin Demichelis to partner Vincent Kompany at center back.   
"He is already a fine player but in my opinion, he has all of the mental, physical, technical and tactical attributes to become one of Europe's very best defender," said Pellegrini, who already has signed right back Bacary Sagna and goalkeeper Willy Caballero.   
"Eliaquim is a player I believe will make an immediate impact in the Premier League, thanks to his physicality, his reading of the game and quality on the ball."City didn't disclose the cost of the transfer, but the reported fee would put Mangala on the list of the club's most expensive players, along with forwards Carlos Tevez, Sergio Aguero and Robinho.   
Mangala, who has signed a five-year deal, came close to joining City in January but didn't complete a move that was then earmarked for the off-season. He is the sixth recruit since City clinched its second Premier League title in May, after Sagna, Caballero and midfielders Fernando, Frank Lampard and Bruno Zuculini.   
Mangala was in France's squad at the World Cup but didn't play a game in the team's run to the quarterfinals. He has made three international appearances and has experience of playing in the Champions League.   
"City is a top club in Europe," Mangala said. "For me, it was an important step to leave Porto and join Manchester City in order to continue my progress. I want to win titles and I believe I can do this."   
City's defense struggled at times last season, especially early in the campaign and when Kompany was out injured. But it largely held firm in the run-in as City won its last five matches to overhaul Liverpool to the championship, and only Chelsea's defense conceded fewer in the top division.   
It is another big return for Porto, the Portuguese club which paid Standard Liege 5.5 million pounds for Mangala in 2011.