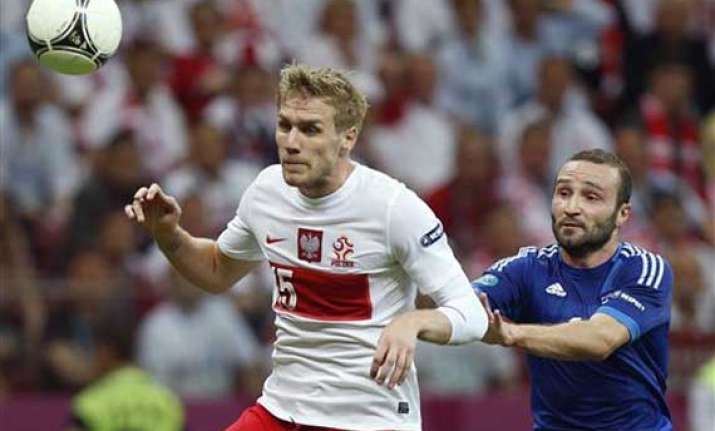 Poland, Jun 9 : Greece missed its chance for a stunning comeback victory, botching a penalty kick, then hanging on for a 1-1 draw with co-host Poland in the opening match of the European Championship on Friday.
Both teams had players expelled, including Polish goalkeeper Wojciech Szczesny.
Shortly after substitute Dimitris Salpigidis equalized for Greece by knocking in a loose ball in the 51st minute, the diminutive striker was taken down by Szczesny in the area.
Szczesny was given a red card, and captain Giorgos Karagounis was given the chance to again give Greece an opening match win against the host. Eight years ago, Karagounis scored in the opening 2-1 win over host Portugal.
His shot, however, was saved by replacement goalkeeper Przemyslaw Tyton, whose first touch of the ball salvaged a point for the Poles in Group A.
"We're not happy because in the end we could have won it," Salpigidis said. "We were left with 10 men but we came back strong."
Salpigidis came on at halftime, a gamble by Greece coach Fernando Santos to leave three attackers on the field after the loss of both central defenders in the first half: Sokratis Papastathopoulos to a red card after a pair of yellows, and Avraam Papadopoulos to injury.
But Salpigidis didn't disappoint.
Greece midfielder Vassilis Torosidis, who dropped back into central defense after the ejection of Papastathopoulos, crossed the ball into the center for Fanis Gekas.
Gekas and Poland defender Marcin Wasilewski collided and Szczesny jumped for the ball, but failed to clear it. That left the loose ball sitting patiently as Salpigidis ran in to knock it home.
"The referee played a very big part in this game. I don't know what he saw, but I don't think the two yellow cards were even fouls," Papastathopoulos said. "I can't understand it."
Poland controlled the play in the first half, exploiting the right side on the field and eventually taking the lead in the 17th minute.
Two of the Borussia Dortmund trio that work on the right side set up the goal. Midfielder Jakub Blaszczykowski crossed the ball into the center for Robert Lewandowski, and the striker calmly headed the ball into the ground and under the charging Costas Chalkias.
"We dominated the first half and we could have scored a couple more goals. The second half was something totally different," Poland defender Lukasz Piszczek said. "Greece stood up well against us despite playing with 10 men. We had trouble stopping the long ball and it cost us the first goal and then the penalty."
After beating Portugal in the opening match of Euro 2004, the Greeks then beat the Portuguese again in the final to win their only major title. They can only hope this start will lead to a similar finish.
"This game had everything," Torosidis said. "We had a terrible first 30 minutes. … After the red card, we actually dominated so I think the result is fair."