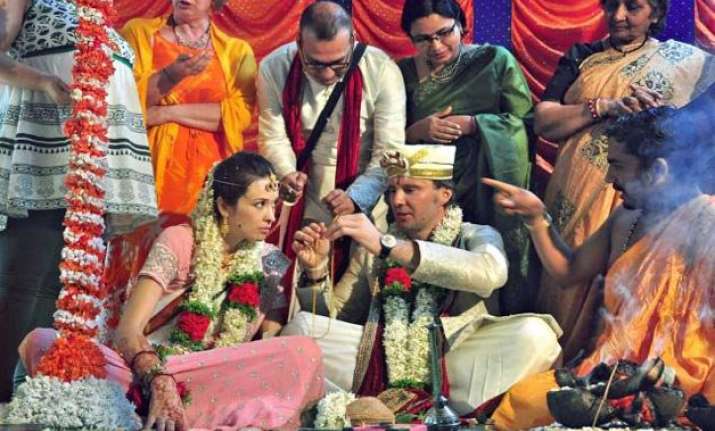 Mangaluru: Inspired by the Indian philosophy, Ukrainian footballer Vitaliy Reva arranged his 'remarriage' with his wife Elena in the temple town of Udupi near here in accordance with Hindu customs and traditions.
Reva, retired goal keeper of Ukraine national team, who got married to Elena ten years back, chose Neelavara Goshala at Udupi as the venue for his marriage, which was attended by his seven-year-old daughter Vasilisa.
Reva says he is attracted towards the Indian philosophy and traditions. He practices yoga and is learning mantras which he says helped him to concentrate better on the game.
"It was my dream to get married according to Indian tradition," he says.
The 'remarriage' was held in a spiritual atmosphere sticking to all Hindu customs and traditions. Dressed in traditional attire, the couple were told about the meaning of every ritual performed.
Thanmay Goswami, the doctor treating the couple at a nearby ayurvedic resort, took the initiative for the marriage after Reva expressed his desire. The Reva couple believed in Indian philosophy and their love for India was commendable, Goswami said.
Man and woman should look upon one another as reflections of the Divine, Reva says. Just being in this great place was a cure for mind, body and soul, he said.
Reva, who retired in 2003, had participated in ten international tournaments and played 40 matches. Now he plays for clubs. His wife Elena is an interior designer. The two had married ten years ago and their seven year-old daughter Vasilisa is studying in First standard, sources close to the footballer said.